Yes! We want to join Green America's Green Business Network, America's first and most diverse network of business leaders in social and environmental responsibility.
Activate our Green Business Success Package
Get certified: Earn Green America's trusted Green Business Certification
Save big: Many organizations charge hundreds of dollars just for certification. The Green Business Network gives you both certification and your complete Green Business Success Package of benefits for one low price.
Reach new customers: Access Green America's nationwide network of dedicated individuals seeking products and services to lead a greener life
Get listed in the National Green Pages®, Google's #1 green business directory
Join the leading network of responsible businesses with Honest Tea, Nutiva, Clif Bar, Domini Social Investments, Dr. Bronner's, Dharma Merchant Services, Self-Help Credit Union, Organic Valley, Pax World Funds & more
Join the Nationwide Green America Community
Welcome to our vibrant community of changemakers working together to grow the green economy and build a better world.
Join the Green Business Network today and access all your certification, marketing, and service benefits Plus you'll support Green America's work on your behalf to change the way America does business.
Join the nation's honor roll of businesses that lead and innovate in building a greener economy
Support Green America's transformative work to grow the green economy: fighting toxins and GMOs, advancing clean energy, expanding fair trade and fair labor, and empowering consumers and investors to take action and make greener choices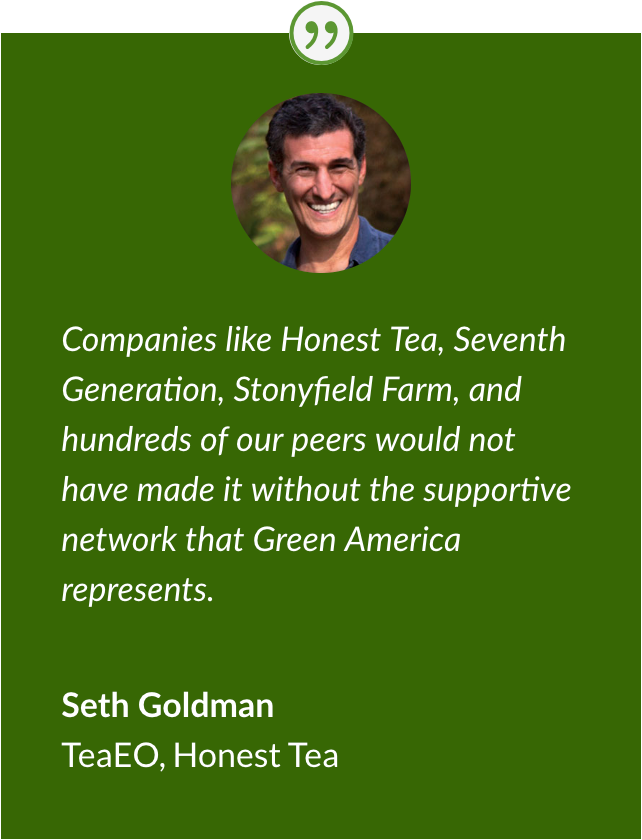 Become a part of the largest and most influential network of sustainable businesses in the country—don't be left out! Our members include:
Business CAN Change the World
Let's make it happen.
More Membership Options
My business is in the financial sector
If your business operates in the financial sector—i.e., as a financial advisor, community development bank, mutual fund, or other type of socially responsible banking/investing entity—join the Green Business Network today. You'll be part of a network that includes SRI leaders such as First Affirmative Financial Network, Calvert Investments, and Self-Help Credit Union. Join as a socially responsible investing entity: Select SRI Membership.
My organization is a non-profit or educational institution
We encourage non-profits or standard-setting organizations and educational institutions with a socially and environmentally responsible mission to join the Green Business Network. If your organization has a budget of less than $100,000, please contact our staff at 800-58-GREEN or via this form for a special membership rate. If your budget exceeds $100,000, please join here.
My business is a franchise or MLM
If you are the owner of a franchise, an independent contractor, involved in multi-level marketing, or a representative of a company division or a publicly-traded company, please contact our staff at 800-58-GREEN or via this form