Green America's Green Business Standards
Green America awards Green Business Certification to companies and organizations that meet or exceed our standards for social and environmental responsibility.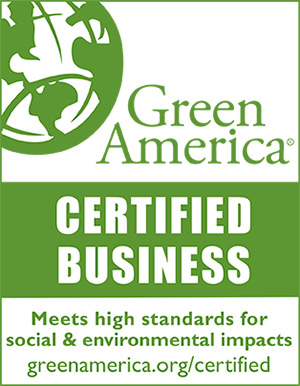 We certify businesses that are committed to using business as a platform for social change. Discover what makes a business green »
Green America's Green Business Certification ensures that companies operate according to these general standards:
They operate a "values-based" social enterprise according to principles of social justice and environmental sustainability (values statement must be featured on website);
They are environmentally responsible in the way they run their operations and facilities (view green office/facility standards), and in how they source raw materials, manufacture products, and market them;
They are currently selling products or services when applying for Green Business Certification (completed website with all products/services listed);
All companies seeking Green Business Certification must meet Green America's standards for all businesses, and also meet or exceed all required standards in their industry. Explore our standards in nearly 40 industries below, or learn more about our Certification and the requirements for all businesses.
Get Certified
Earn your Green Business Certification. Join the Green Business Network today to get started.