How to Get Certified
Make your mission front and center with the support of a trusted third-party leader. Green America's Green Business Certification is designed for small businesses.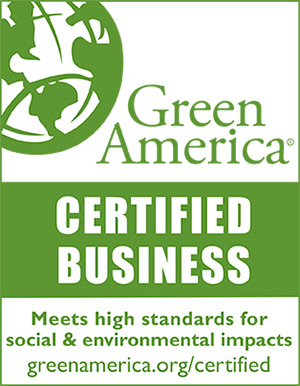 Show customers, colleagues, suppliers and investors your commitment to people and planet with your Green Business Certification.
Once you're certified, you'll earn the right to display the Green America Seal. Show off your Certification on product packaging, marketing materials and advertising, websites and social media, presentations, and in storefronts.
Step 1
Join the Green Business Network and get access to your Member Dashboard, featuring our new, improved online certification platform. Log in to your Member Dashboard and choose your industry.
Step 2
Take your assessment with questions focused on your industry; our assessments are particularly suited to small and mid-sized businesses.
Step 3
You're done! Green America's Certification Team will review your application and respond within 10 days.
Step 4
If you're approved, congratulations! You will receive confirmation with your Green America Seal that you can start using right away.
If you're not ready to earn your Green Business Certification yet, we'll let you know what steps you can take to apply again. Please note: Membership is not refundable due to a declined certification; you can try again as your practices more strongly serve people and the planet.
Get Certified
Earn your Green Business Certification. Join the Green Business Network today to get started.
Questions about the Certification Assessment?
Explore our FAQ to see if we've answered them, or contact us and we'll get right back to you.
"Earning our Green Business Certification from Green America is not only an honor, but also a feather in the cap of any business that genuinely cares about the environment. I have always been an eco-conscious consumer, but having a professional organization committed to recognizing the efforts of eco-friendly businesses lets us know that our labor is not in vain. The process was thorough, but not at all invasive. The Nail Belle is honored to have earned our Green Business Certification and we display it with great pride. Stay Green, America!"
Karla Carrington
Founder, The Nail Belle