AT&T, Sprint, T-Mobile, and Verizon Ranked on Clean Energy Sourcing and Commitments; New Section on 5G Networks Highlights Benefits and Challenges.
Washington, D.C. - April 30, 2019 – Sprint is now in last place on Green America's Wireless Scorecard For Use of Clean Energy after failing to meet its goal of 10% clean energy by 2017 or provide updated data. According to Green America's updated "Clean Energy is Calling" report, T-Mobile is the clear leader with a 100% commitment to clean energy by 2021 and several contracts with wind farms already in place. AT&T, the biggest non-utility purchaser of wind power in the U.S. last year, is in second place with contracts in place to source 820 MW of energy from wind, but no announced clean energy target. Verizon, previously in last place, ranks third with a commitment to 100% clean energy by 2025, a $1 billion green bond to help finance clean energy adoption, but no new contracts in place to get the company to its goal. 
The report also highlights the challenges and opportunities of 5G networks. A possible benefit of 5G could be its potential to increase energy efficiency. But 5G also will increase the number of devices that can be connected from 1,000 devices to one million devices per square kilometer. The amount of infrastructure and energy needed to support such a large and fast network could be staggering, making the industry's transition to clean energy more important than ever.
The telecom sector already uses enormous amounts of energy each year. The four largest companies – AT&T, Verizon, Sprint and T-Mobile – collectively use more than 3 million MWh of electric power each year.  AT&T and Verizon, the two leading U.S. companies in the industry, have a combined electricity usage that could power 2.6 million homes for a year. Green America estimates that if all commitments are met, approximately 40% of the four companies' networks will be powered by clean energy.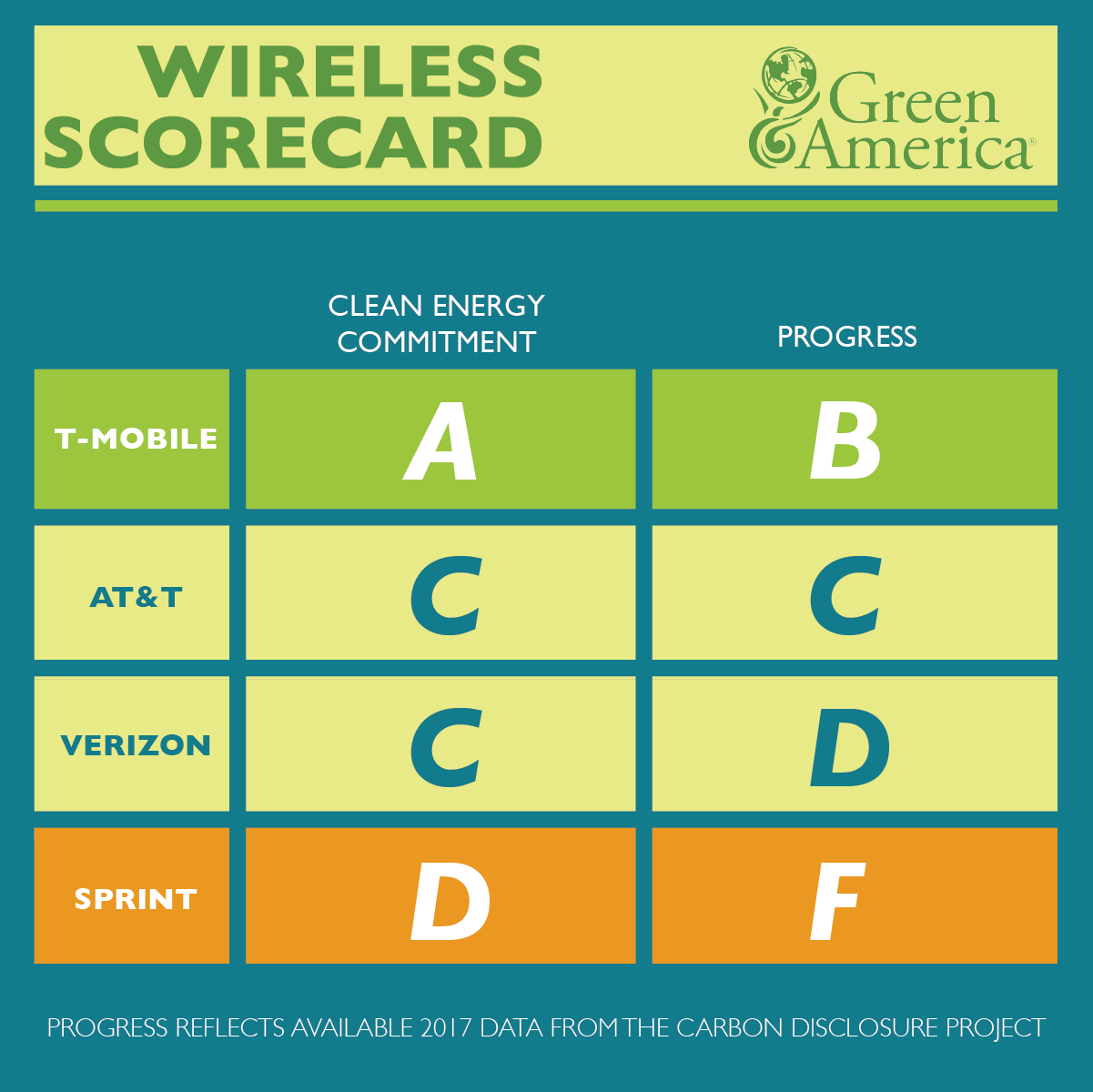 "At a time when we are increasingly seeing the negative impacts of climate change, and when the federal government is failing to act, we need companies to step up their commitments to clean energy," said Todd Larsen, executive co-director of Green America. "Consumers have made clear to the telecom sector that they expect their cell phone carriers to make 100% commitments to clean energy, and with the progress documented in this report, we can see that companies are starting to listen."
Each of the companies is graded on current commitments and actual clean energy being used. This is based on publicly available data through the Carbon Disclosure Project and reflects 2017 energy use, except for Sprint, which has not released updated data and is measured by its 2016 numbers.
"Green America is excited with the progress we are seeing, but the ultimate goal is to reach 100% clean energy across these major telecom companies," said Beth Porter, climate campaigns director at Green America. "The impacts of climate change are already being felt by communities worldwide. We need all sectors to rapidly cut emissions and shift to clean energy sources to address the climate crisis."
Since 2017, Green America, the nation's leading green organization working to solve environmental and social problems with economic solutions, has been urging telecoms to shift to clean energy through its "Hang Up on Fossil Fuels" campaign, with a specific focus on Verizon and AT&T, the nation's two largest carriers. Thousands of consumers have signed petitions and contacted their network providers to demand the switch to clean energy.
-----------------
MEDIA CONTACT: Max Karlin for Green America, (703) 276-3255, or mkarlin@hastingsgroup.com.