The 2021 shareholder season is underway! Over 400 shareholder resolutions have been filed on a wide range of social, environmental, and sustainable governance issues.
If you own company stock directly (not in a mutual fund), be sure to Vote Your Values – it's important to vote your proxy ballots to let management know you want corporate practices that support people and the planet.
Thanks to As You Sow, the Sustainable Investments Institute, and Proxy Impact, publishers of the 2021 Proxy Preview, for assistance in compiling the lists below that provide a sample of some of the key resolutions facing Corporate America. Green America is proud to co-sponsor the 2021 Proxy Preview; download your free copy for information on important shareholder resolutions trends and upcoming votes.
Below you'll find some of the companies at which resolutions have been filed, followed by a sampling of the issues of concern raised by shareholders.
If you own stock directly in these or other companies, read your proxy ballots carefully to vote in favor of resolutions that reflect your values. You may have the opportunity to vote on issues such as climate & energy, human rights, gender and minority pay disparity, deforestation impacts, and corporate spending on lobbying and elections. Here are quick tips on how to read a proxy ballot.
As a share owner, you are a part-owner of the company, and voting your proxy is an important responsibility. Thank you for voting your values!
Post this "I'm voting" badge on social media and let people know you're proud to raise your voice on important issues as a shareholder. Click to share to Facebook or Twitter.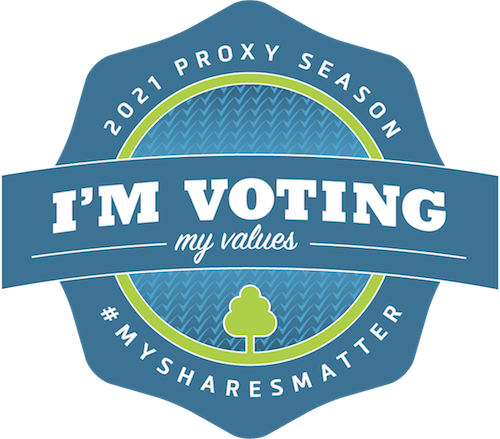 Click on a company below to view shareholder issues and meeting dates.
By Company
By Issue
Green America is not an investment adviser nor do we provide financial planning, legal, or tax advice. Nothing in our communications or materials shall constitute or be construed as an offering of financial instruments or as investment advice or investment recommendations.