Written by John Trimble, who founded the volunteer nonprofit group Foodscaping Utah with his wife Holly in 2017. 
As I woke up this morning and looked out my front window to a view of fresh peas, strawberries, and lettuce, I couldn't help but wonder what sort of impact it might have on my community if more people were able to enjoy harvesting some of their own food right from their own yard. To me, the idea of using your landscape for something as productive and beneficial as a food garden seems like a logical first choice but driving around my city it might seem radical. 
I live in Utah, in a dry climate, and while there has been a long tradition of home gardening and food production, most of that is now associated with previous generations and grass lawns dominate the home landscape. But what if we were foodscaping our yards and public spaces instead of installing lawns? What if more people discovered how good homegrown fruits and vegetables taste? What if more of our food was grown locally instead of shipped across the country and the world? What if more of our water was used to grow food instead of grass? What can we do to help?
Foodscape Your Front Yard
The first thing we did was replace our front yard with a foodscape. Foodscaping aligns well with Climate Victory Gardens, because it transforms landscapes with designs that put food-bearing plants front and center to maximize food production while keeping esthetics in mind.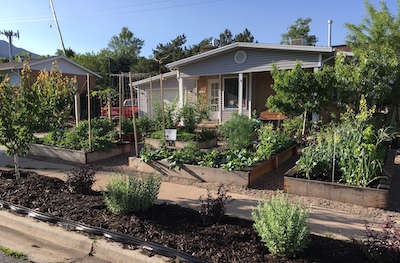 There are numerous benefits to foodscaping your front yard, but perhaps the most unexpected and profound is that it starts building community. Since foodscaping our own front yard, we have started interacting with our neighbors on a more personal level. People are always interested to see what's growing, and they often stop by to ask questions. We also tend to give a lot of our extra vegetables to our neighbors, which leads to interesting conversations. The best part is that foodscaping front yards in our small community seems to be catching on. Two of our immediate neighbors now grow food in front of their houses, we've seen foodscapes pop up around our city, and we are helping many others get started.
The Birth of Foodscaping Utah
A few years ago after completing the local extension office's Master Gardener program and watching Ron Finley's Ted Talk, my wife and I decided that we want to do everything we can to help people learn how to grow their own food. So, we started a nonprofit organization called Foodscaping Utah. We developed a website and YouTube channel with lots of how-to information and started a volunteer group that comes together to help residents get their foodscapes started. 
Volunteer workdays are called scapes, and it all starts with an application on our website and an initial consultation from a Master Gardener who helps create a plan. During a typical scape, we put in a raised bed or two for vegetables and sometimes plant a fruit tree or grape vine. The homeowner has all the necessary materials on site in advance and invites their friends and neighbors to join Foodscaping Utah's volunteers. We work for two hours and then we eat and have a 30-minute class related to something we planted during the scape (fruit tree care, planting vegetable starts, growing grape vines, etc.).
We have been blown away by the response from our community and the amazing volunteers who have shown up to help. The truth is that when we started Foodscaping Utah, we weren't sure how well we would be able to get the word out or if anyone would even be interested. We have the most hard-working enthusiastic volunteers around and there is something powerful and resonating about how we can transform a monotonous unproductive lawn into something as inspiring as a foodscape—in just a couple hours! 
Now in our second growing season, we have seen interest double from one year to the next and have gone from three volunteers participating in our first scape to over twenty at our most recent one. Volunteers range from people who know very little about gardening but are eager to learn, to Master Gardeners looking to share their knowledge and give back. And our city, Ogden, has also generously started donating a cubic yard of green-waste compost for all of our scapes!
Start Your Own Volunteer Group
We started Foodscaping Utah hoping to inspire others to reconnect with where food comes from and to rethink how we view and interact with our landscapes. For those out there who have some gardening knowledge and are interested in creating positive change in their communities and beyond, we would encourage you to start a volunteer group and see what happens. We think helping one another in-person does wonders to make getting started less intimidating, and front yard gardens—whether called foodscapes or Climate Victory Gardens—can quickly become less of a radical concept. 
There's no reason landscapes can't look great, feed us, and have a positive impact on our communities and the environment too. Of course, grass lawns are still the norm in Utah, but we have noticed that particularly the youngest generations are seeing the futility of grass, especially in the front where they never play on it. We're also seeing a massive increase of interest in vegetable and fruit gardening. 
And why not? Homegrown fruits and vegetables taste amazing and are super nutritious! And getting outside and digging in the dirt has a host of health benefits for children and adults alike. We started out hoping to inspire, but the response from our volunteers and our community is what has been truly inspirational.
Grow your own!
Read more inspiring Climate Victory Garden stories and tips.