Written by Trina Calderón, a Los Angeles TV/filmmaker, journalist, and UC Master Gardener. She contributes art and culture writing to a variety of print and digital media, and writes short stories, essays, and screenplays. Committed to a creative journey as a storyteller aware of her strong female and Latinx perspective, Trina aims to add a voice where mainstream media does not.
Based in Los Angeles, California, Growing Hope Gardens is a social and environmental nonprofit organization dedicated to the empowerment of people experiencing homelessness and low-income challenges by creating regenerative, organic urban gardens in shelters, service centers, bridge housing, affordable housing, and on vacant land. The gardens provide growth for plants and people through a communal connection to healthy food.
https://www.communitycorp.org" data-entity-type="file" data-entity-uuid="0d282dfa-df18-4463-9858-8936e8f052db" src="/sites/default/files/inline-images/Jean-Pierre%20Provo%20%28Homeless%20Shelter%20Garden%29.jpg">
Our founder, Los Angeles County UC Master Gardener Carolyn Day established the program to reach out to people in need and help them restore their faith in themselves and society, while learning a great skill. We believe that time spent in contact with nature through these gardens adds meaningful, rewarding work and a safe environment for healing. While growing nutritious organic produce, our garden programs create a sense of belonging and the opportunity to make beneficial human connections. People are also connecting to the source of their food and cultivation practices that bring organic, sustainable, and seasonally appropriate food to their urban setting.
Our pilot project launched at Samoshel Homeless Shelter in Santa Monica in 2018. Mark, the self-appointed shelter resident/garden caretaker who first showed Carolyn the garden at Samoshel was also terminally ill. As he showed her the garden, he shared that he was dying and was sad because the garden was the most beautiful thing he had ever created—he was sure that it too would die when he was gone.
Carolyn remembers, "As we spoke, I was touched by how important this garden was to Mark during his time alive and dying. This experience propelled me to do research about the impacts of gardening on people of small means." Two years after Mark's death, Growing Hope Gardens was founded.
Since then, we've installed four large ollas for irrigation at Samoshel—these extremely water efficient clay pots prevent excessive evaporation and water runoff in our hot and dry climate. The pots are buried in the garden and can be filled with water and/or collect rainwater, which gradually seeps into the soil to water the roots of the plants. In its second season, the garden is thriving and bringing joy to the residents and employees.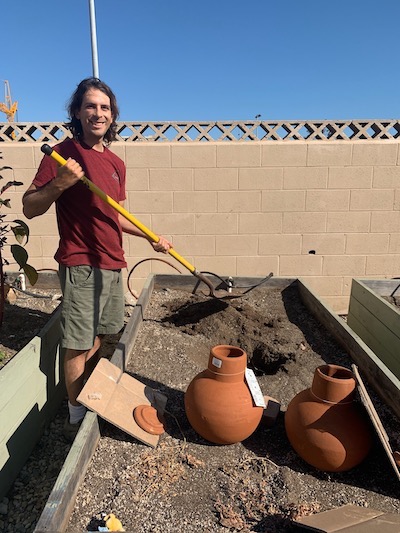 Our program provides residents with workshops on gardening and a paid position for current or former residents to increase stewardship, ensure the success of each garden, and provide ongoing maintenance at each site. The workshops educate through science-based gardening knowledge originated by Grow LA's Victory Gardens Initiative. An opportunity for job training for our homeless population is valuable, because every job is preparation for an outside job. Hands-on education creates a network of neighbors of varied backgrounds in an outdoor space, which facilitates the sharing of cultures, plants, and gardening practices. By supporting adult, youth, elderly, and disabled participation in the gardens, we build community and the care for an overall shared living environment.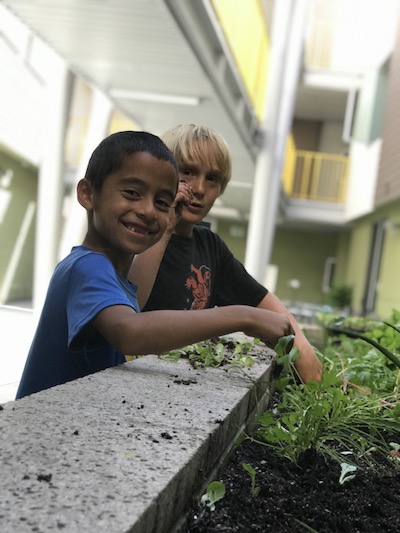 We care about people and the planet; there are incredible environmental benefits to our program as well. Gardens provide food locally, which eliminates the fossil fuels required to transport produce and decreases our dependence on fuel. We also capture storm water to decrease runoff, lessen our overall water use, curb erosion, and protect our local water sources.
By using regenerative and chemical-free gardening methods, we help mitigate our impact on the environment. Growing Hope Gardens fights climate change in each of our locations because our gardens increase the ability of soil to store carbon that would otherwise be released in the air to form CO2. In turn, this healthy soil increases biodiversity, attracting insects, pollinators, and abundant soil fungi. We are thrilled to have our gardens registered as Climate Victory Gardens with Green America because our organization is committed to using gardening to make healthy food, healthy community, and a healthy planet.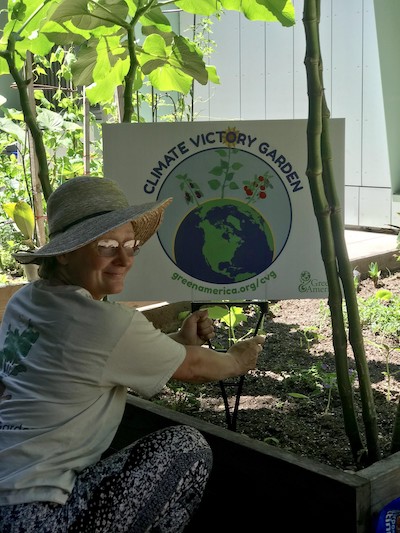 Our mission is to reduce the carbon footprint of each shelter, increase food system resilience, and encourage a sustainable, healthy lifestyle. To accomplish this, our programs are funded by our community, grants, and sponsors—we are happy to announce that we just received Los Angeles County Supervisor Khuel's "Food for the Soul" grant. This grant will fund three additional homeless shelter gardens, including maintenance and workshops until the end of 2020, as well as additional Community Garden Workshops and the launch of a mini urban farm alongside affordable housing.
Please consider starting your own organic and regenerative garden or work with an organization like ours to benefit your community and help others reap the benefits. Another inspiring organization to check out is the Homeless Garden Project. For more information on our program, please visit our website and follow us on Facebook.
Read more inspiring Climate Victory Garden stories and tips.