Green America's Get A Better Bank campaign, and similar initiatives across the country, are gaining momentum! Did you know that Big Banks continue to invest massively in fossil fuels, driving us toward greater climate catastrophe? They also have a long history of predatory and racist practices that have harmed people of color for generations.
Fortunately, there are better banking choices! And people everywhere are making the switch! Our interview with Annalisa B. describes her motivation for supporting green financing in order to put her money to work for communities – and to avoid supporting fossil fuels. As you'll read, it doesn't hurt to reward yourself with chocolate chips as you move through the steps of switching to a better bank or credit union.
Fran: First off, tell me a little about yourself, where you live, what you do for a living.
Annalisa: Hello, Fran! I'm a teacher at a music nonprofit in New Haven, Connecticut. We teach free string instrument lessons to kids from all over New Haven, and we also provide instruments and transportation. I teach ages 6-18, so my students run the gamut from bright-eyed children to bright-minded teens!
Fran: How did you embark on the quest for a green bank? What motivated you and what didn't you like about the bank you were using?
Annalisa: I have a friend who's always ahead of me on environmental issues - the sort of friend you listen to because they're on the right side of history! She posted BankForGood.org in a group chat, and I decided to check it out. They made it as smooth as possible to put my money where it could support my ethical and financial goals instead of undermining them with business as usual.
It can be hard to switch when you do actually like your bank. That's how I felt about Ally Bank. It served my immediate needs well. But, long term, a big commercial bank doesn't serve the needs of local communities or the environment, so I felt accomplished when I put my money into a bank that can support the "big picture" future of the planet.
Fran: How did you learn about Big Banks financing of the climate crisis?
Annalisa: I first learned about the concept of "divestment" - moving money to places where it supports your values - from stories of college students who pressured their universities to divest from fossil fuels. I was also inspired by the movement in the 1960s-90s to disinvest in South Africa in protest of the Apartheid system.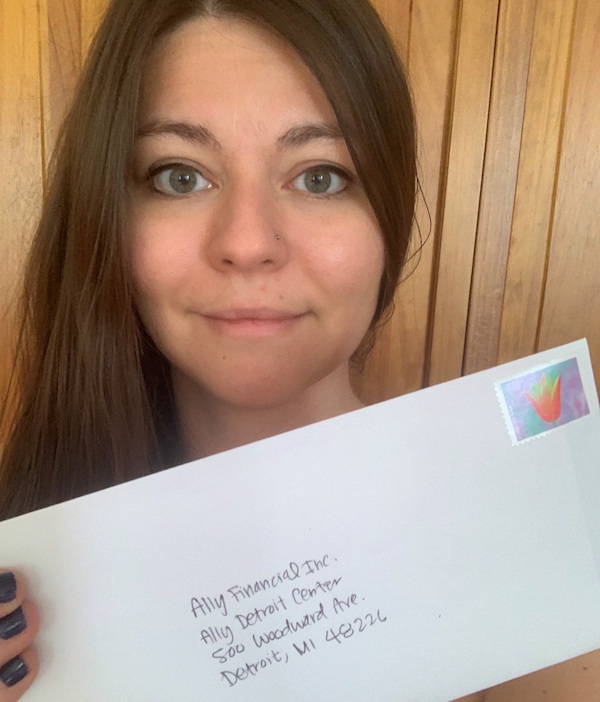 Fran: What do you like about your new bank? How did the bank switching process go overall?
Annalisa: I like that signing up for Amalgamated Bank was quick and easy online, and that they do everything I need them to do. They have a mobile app with account balances and internal and external transfers, and they work with all of the other financial apps like Mint, PayPal, Venmo, Betterment, etc. I also really appreciate that they offer unlimited savings accounts so that I can organize my money within my savings (gotta keep that Emergency Fund separate!).
Switching did require some extra attention. The automated systems for connecting banks to apps struggled to connect with Amalgamated. I had to use a work-around process to verify that it was actually my account. Ultimately it worked.
Fran: Did you find it worth a bit of time to align your banking with your values?
Annalisa: I did! Sometimes modern conveniences for some are built on profits that take advantage of others, or that don't serve the long-term needs of the planet. It was totally worth it to me to put in the administrative time - probably 10 hours overall - and know that I was investing that time in a move I was proud of. Also, when I support a small bank, I support their ability to create apps or experiences with all the bells and whistles of a big bank, but without the ethical downsides.
Fran: You mentioned to me that you had the opportunity to inform the customer service reps at your initial bank about Big Banks' bankrolling of the fossil fuel industry and your reasons for leaving a conventional bank – did you also communicate that in writing to bank management?
Annalisa: Yes! Green America made it easy for me to send a breakup letter to Ally by using your template.
Fran: What advice or recommendation do you have for folks still using a conventional Big Bank?
Annalisa: Since I'm a teacher, I love reward systems. Set yourself up for success with a bag of chocolate chips! Every time you take one step closer to switching banks - signing up for reminders at BankForGood, opening a new account, closing an old account, calling customer service - reward yourself with a treat. Both your taste buds and the earth will thank you!
Or, find a teammate. There's nothing like having a friend, family member, or community member to check in with, complain with, and be accountable to.
Lastly, you can do it! And you'll feel good once you do.
There are many resources to help you switch to green financing and a better banking institution, here are a few so you can get started: