Building community, when done with care and concern for the good of the commons, offers a comforting, nourishing, and collegial safety net when times get tough.
This safety net can be a particular boon for those who live far away from friends and extended family. When we make a point of forming relationships in our communities across socio-economic and racial or cultural lines, we help increase tolerance, understanding, and mutual respect, and decrease fear.
In addition, we'll likely end up with a closely knit set of neighbors, friends, associates, and community members who are organized enough to respond to—and influence—events, threats, or opportunities that impact all the individuals within that community. In other words, we're stronger together. Sounds good? How do you sign up to build community in your own location? Before you begin on the journey of getting more involved with your own chosen community, here are three tips to keep in mind.
Tip: Know that each of us makes a positive difference in the lives we touch.
While we each may feel lost in a digitally overloaded, heavily scheduled, complex daily routine, know that each of us truly makes a difference in the lives of others. A kind word, a loving gesture, and a thoughtful act all ripple out in waves of generosity and impact. Even five minutes of mindful conversation have an opportunity to make a measurable change in someone else's life,,,and it builds community!
Tip: Time, talent, or treasure—measure out what works.
There will be varying levels of involvement from a retiree, a young adult, a working parent or guardian, a teen, or anyone at a transitional stage in their life. Time, for some, is the limited and precious resource that cannot be shared. For others, personal skills, talents, and gifts are not available for sharing, but time or money is available. For still others, financial resources are limited, but there is an abundance of hours available. A wise course of action is to identify what works best for you and your dependents or loved ones at any given time, and allocate your time, talent, or treasure accordingly.
Tip: Learn how to give as well as to receive.
An important lesson in building community is to learn how to give, but also how to receive. Part of the cycle of community means we are sometimes cultivating our relationships, and sometimes we are harvesting the benefits that accrue from those relationships. Pain and grief can be halved, and  joy doubled, in the process of sharing with another individual.
Keeping the above tips in mind, here are ten ways that we've gathered from friends and associates outlining how to get involved in your community.
10 Ways to Build Community
Neighborhood Involvement
Anyone in a local neighborhood, cul-de-sac, condo association, or collection of townhomes may consider reaching out to neighbors to build ties and strengthen bonds.
1) Build a Community Garden—Starting a community organic garden not only provides a way to connect with others in your community, but it also helps build local resilience by encouraging more local, organic food production. The American Community Gardening Association has plenty of resources and locally based programs to help you get started.
Consider getting the kids involved by setting aside a special children's corner of the garden that kids can explore and plant at their own pace. And Christopher Bradshaw, who works with the nonprofit Dreaming Out Loud in Washington, DC, to build a healthy, equitable food system in the city, advises making a point to bring in older folks as well:
"Respect the agricultural knowledge already present within communities," he says. "Engage the elders; they'll teach you more than a book ever could."
2) Start an Ongoing Conversation—Book clubs, hobby groups such as jewelry-making, knitting, strategy gaming, language conversation groups, or other topical gatherings are a great way to connect with kindred spirits on a regular basis. Typically held in public spaces, or restaurants, cafes, or community centers, these drop-in events may be held monthly, bimonthly, or weekly, and don't require too much in the way of start-up costs. Oftentimes materials will be made available, so all that is needed is your presence. If you decide to organize one, publicize it at the library, community center, school, or religious center, on social media, or on community-submitted billboards.
You can even start a conversation group to help you meet new people and get new perspectives on facing the challenges in your city or town.
The Institute for Policy Studies (IPS) and Common Good teamed to up launch a curriculum for "Resilience Circles," or community groups that come together regularly to work on increasing personal security during these economically challenging times. Resilience circles have three purposes: learning, mutual aid, and social action for the greater good. IPS and Common Good provide resources and can help you find or start a circle in your area.
Conversation Cafes are another type of community-building group. The intention of these open, hosted groups is to "transition from small talk to big talk," and to have "conversations that matter." What the topic is is up to each group, though the website has plenty of ideas to get you started.
You can also meet to discuss politics. MoveOn.org or local political parties often convene informal discussions on local and national politics. Or, combine the Conversation Cafe idea with politics and meet with people whose views differ from your own, with the aim of finding areas of common ground and combating political polarization.
James Hoggan's book, I'm Right and You're an Idiot, has an abundance of advice on talking to people with different ideas and values, with civility and compassion.
3) Time Banks—Organized tools to exchange time are emerging as an excellent local way to share resources with others nearby. Research Time Banks and Hourworld for a timebank to join. This model is built on the sharing economy where time, or the "person-hour," is used as currency. Members receive and provide gifts of time and talent with other members of the exchange. The banking software "tracks" your hours and allows you to access someone else on a need that you have: typical time-banking activities include house-painting, moving, home improvement, gardening, babysitting, elder care, computer advice, and other similar tasks. You can even volunteer to teach a skill, like carpentry and knitting, or a language.
4) Volunteering - Volunteering with a neighbor, hospital or clinic, community center, library, or nature center gives the volunteer a great sense of accomplishment, involvement, and fulfillment, and supports the community in many wonderful ways. Consider what you may offer as a volunteer: tutoring, mentoring, language practice, literacy, skills development, legal aid, food bank coordination, and translation are some of the many ways in which you reach out to your community and become an integral part of it.
For Parents/Guardians of Young Children
New parents, parents of under-fives, and first-time parents often benefit from the help and mutual aid that comes with connecting together to navigate those early years of childhood.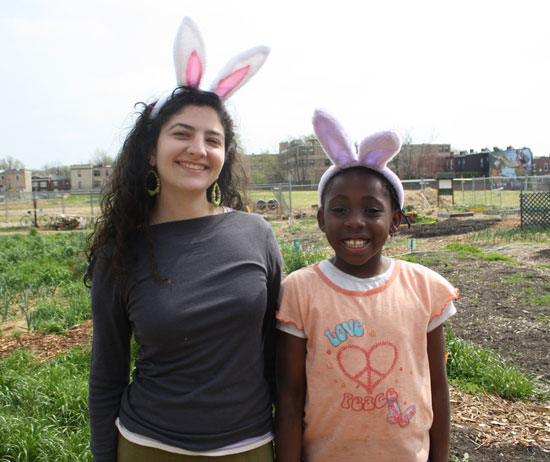 5) Mommy and Me/Daddy and Me—Consider joining or starting a parent-and-me group that gets together on a regular basis, both with and without children, for mutual support and knowledge sharing. Meetup.com is a great place to start: search for "Parent Groups", or "Mommy and Me" within 5-10 miles of your location, in order to connect with other parents in a similar situation. Typical events for these include holiday gatherings such as Valentine's Day parties, Independence Day picnics, Halloween "trunk-or-treating", and outings such as trips to zoos and museums, weekend playdates, or nature hikes. These types of events are easy to manage, require minimal advance planning, and can usually be dispersed through different organizers within the group.
6) Babysitting Co-op—A more intentional community-building opportunity with other parents is to invites 5-7 families to set up a skills cooperative. Take turns making dinner for each other (or hold regular potlucks); providing child, pet, or elder care; or making simple household repairs. You can even band together to purchase solar panels, and save a ton of money in the process. Green America has seven more ideas for co-ops you can start yourself.
7) After-school and Extra-curricular Events—Girl Scouts and soccer are the place to be for school-aged kids. Are you able to be a co-leader, a coach, or an assistant parent? After-school gatherings such as girl groups, boy groups, or hobby groups such as computer coding, art, or nature clubs always need adults to invest a few hours to support youth. If you're able to reach out on a leadership level, consider getting involved with your local inclusive scouting organization, such as the Girl Scouts and Navigators USA, or with local recreational sports associations or the YMCA.
8) Parent Teacher Association—The PTA, or sometimes the PTSA (Parent Teachers Student Association), provides standard ways to get involved with your children's school. Typically duties include board and committee leadership positions for fundraising, activities, end-of-the-year events such as dances or festivals, and investments in the school's infrastructure and supplies. Meetings are typically monthly. Find the schedule at your school website, or call the school office.
Business Outreach
Local businesses have a unique role to play in building community through their purchasing, hiring, and supply-chain decisions.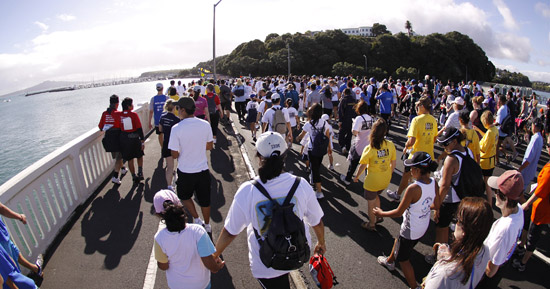 9) One-day Events—One-day events provide a focal point for private-public partnerships to congregate around a particular theme. Options can be community-wide, such as "Bike to Work Day" or "Beach Cleanup Weekend," or they can be targeted to a specific organization like a school, clinic, or extracurricular program. Community-building might look like an organized Fun Run, with a pancake breakfast afterwards, where all proceeds going towards a specific beneficiary, and the staffing can be employees and team members from the business: everyone benefits.
10) Charity Events—Carnivals, canned food drives, holiday gift baskets, and similar charitable events may become a signature part of how a family-owned or locally-owned business integrates with their community. Consider aligning the business with a cause that closely reflects what the business offers. For example, a local pizzeria runs a canned food donation for a food bank, a bicycle shop organizes a ride to raise funds for a kids' sports program, or a yoga center, dance studio, or fitness gym coordinates a benefit event for a local children's hospital. Opportunities arise when business leaders decide how to best reach out around certain events and support their community, as well as provide a space and time for community members to come together.