This year has been a tough one for teachers and the many students and parents navigating the education system during the pandemic. Josh Mcguire, a program manager at the school gardening nonprofit Big Green, is familiar with this on both a personal and professional level—starting this fall semester with two young children at home and supporting the many schools he works with at varying levels of virtual and in-person learning. 
"This is a time to let our creative streak really shine and innovate right now," he says. 
No matter whether you're a teacher or parent or where you're working with your students this semester—consider bringing a little creativity to your curriculum with gardening. It's shown to stimulate hands-on learning, tune motor skills, and support stress release. It increases preference and knowledge of healthy foods and ultimately creates connections between kids and the natural world. 
Josh sees a lot of anecdotal proof of this in the communities he works with, "When the student takes a tomato off the vine or eats lettuce right out of the garden for the first time—this creates brand new neural connections, from nature to mouth to stomach, and that's magic."
And, Big Green has the data to back it up, with 91 percent of teachers and principals reporting that students who participate in Big Green Learning Gardens are more likely to eat their veggies.
But gardening can go so much farther than food literacy. You can use the garden to teach science, language arts, and even math and sciences. Climate Victory Gardening digs into topics like photosynthesis, ecology, and atmospheric sciences. (Fun fact: Big Green has over 550 Climate Victory Gardens across the country, capturing 53 tons of carbon over the next 10 years). 
"What's really nice about gardening is that you can do it anywhere and just about any time—if you have a window, you can garden, and it's so accessible for kids," Josh reminds us. "Caring for a plant is a great introduction to your student's first responsibility and taking care of something. Give them a little windowsill plant or have them grow a seed from scratch." 
Activities to get Your Kids Excited about Gardening 
Looking for safe outdoor activities for students? Homeschooling or attending classes virtually this semester? Or just looking for activities to get your kids off their screens? As a garden educator, Josh has some tips for parents and teachers.
Experiment with Root Viewing Cups
Fill a clear cup with soil and plant a seed right along its side. Place the cup in a sunny window, water every day, and watch the root develop and grow into something you can eat. Peas are great for this activity because they're fast growing, with large seeds and roots. You can eat pea shoots when they're just a few inches tall. This is a great activity for all ages—Josh does this with his four-year-old.
Grow Easter Egg Radishes
When gardening with kids, choose plants that are quick and easy to grow. Think there's no way your child will eat a radish? Josh says the magic of gardening is that kids will almost always try what they grew. He loves watching parents' and teachers' surprise at their child enjoying fresh produce straight from the garden. You can grow radishes indoors or outdoors in many places right now because they're cold tolerant. Easter egg radishes are different colors, which adds an element of fun when picking them. Have your child pick, wash, and do a taste test.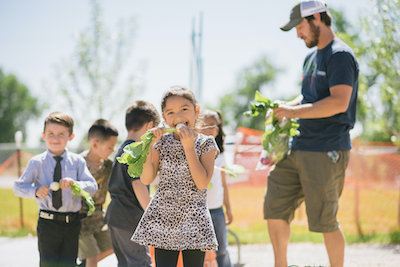 Plant the Pantry … or a Salad
Look for seeds on your spice rack. Poppy seeds, flax seeds, and coriander seeds might germinate, depending on how old they are—over plant to ensure success. Interested in planting a salad instead? Depending on where you live, it might not be too late to plant spinach, kale, and lettuces, all of which are easy to grow; it's as simple as sprinkling the seeds on the soil, scratching them in, and watering.
No matter what you choose to plant, Josh says: start small and choose quick growers and hardy varietals—which just means plants that are tougher in the face of temperature fluctuations. And, be sure to create a schedule around watering. "Water is the make or break," he says. "Be consistent and don't over water. Moderation is everything. Watering is an opportunity for students to check in on their garden."
Looking for more tips for kids? Check out Big Green At Home's newsletter and online open-source curriculum for more great gardening content for students K through 12. 
Gardening with students? Add your garden to the Climate Victory Gardens map and learn more about gardening as a climate solution.