In 2017, we launched Hang Up on Fossil Fuels, a campaign urging major telecommunications companies to rapidly increase their use of renewables to power networks. Back then, the industry was using almost no clean energy and few companies had any plans to increase.
Now, after years of consumer pressure, we're seeing big moves in the industry – but we aren't finished yet.
Here are the major new announcements in the past two weeks:
T-Mobile announced it will add one new wind farm and four new solar farms that will provide a total 600MW of green energy. When online, the company reports these renewable energy sources will bring T- Mobile to 95 percent of its RE100 commitment of 100 percent clean energy by 2021.
Sprint announced its first clean energy project, a 12-year virtual power purchase agreement (VPPA) with Duke Energy Renewables that the company states will provide about 30 percent of the telecom's energy.
AT&T announced two new renewable energy deals with Invergy and Duke that will bring the company to over 1.5 gigawatts of clean energy. AT&T estimates that the total annual clean energy produced under the company's existing contracts is equal to taking 690,000 cars off the road for one year.
With this progress, we've updated our telecoms scorecard, showing commitments and actual progress.
Last year, Verizon announced a commitment to 50 percent renewable energy by 2025, but we haven't seen any new contracts announced to meet that goal, placing Verizon in last place as it currently uses less than 2 percent clean energy.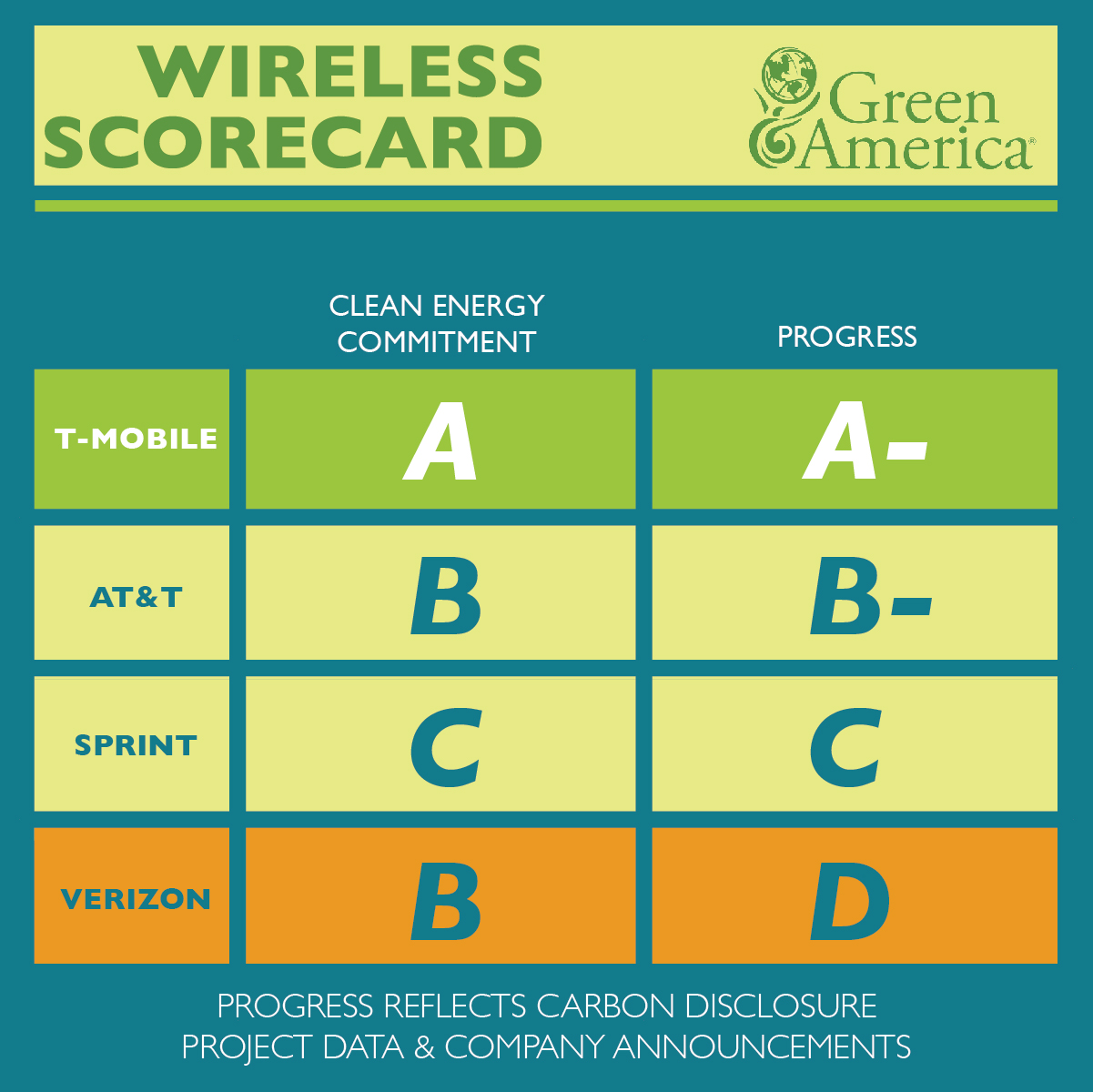 We estimate that previously, major telecoms used the equivalent of over seven coal plants of fossil fuels each year. These recent announcements would cut that nearly in half. The industry has advanced from almost zero clean energy when we launched our campaign to an average of 45 percent. But we know the effects of the climate crisis won't be felt halfway, so solutions can't stop halfway either.
We're urging the entire industry to reach 100% clean energy before 2025.