Green America's Green Business Network® is the first and most diverse network of socially and environmentally responsible businesses in the country.
The Green Business Network® is a program of Green America, the nation's leading non-profit organization working to build a green and just economy.
Comprised of more than 2,000 businesses, the Green Business Network is home to both rising social and eco enterprises and the most established green businesses around. We provide the tools, the information, and the consumer base to help you thrive in today's competitive green marketplace.
Green America's consumer education programs and publications reach millions of green consumers each year, encouraging them to shift their spending to support socially and environmentally responsible enterprises.
Green America's 200,000+ supporters actively seek out Green America Certified Businesses. The Green America Seal is the authentic trustmark for social and environmental responsibility, backed by over three decades of Green America's leadership.
Membership in Green America means being a part of the largest network of businesses, consumers and investors dedicated to growing the green economy.
Our members include:

Business CAN Change the World
Let's make it happen.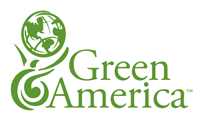 Our mission is to harness economic power—the strength of consumers, investors, businesses, and the marketplace—to create a socially just and environmentally sustainable society.
We work for a world where all people have enough, where all communities are healthy and safe, and where the bounty of the Earth is preserved for all the generations to come.
In all of our work, "green" means social and economic justice, community and environmental health. For us, it really is about both people and the planet.
Green America's work combines four powerful strategies:
Empowering individuals to make purchasing and investing choices that promote social justice and environmental sustainability;

Demanding an end to corporate irresponsibility through collective economic action;

Promoting green and fair trade business principles while building the market for businesses adhering to these principles;

Building sustainable communities in the US and abroad.
Green America is a not-for-profit membership organization founded in 1982. (We went by the name "Co-op America" until January 1, 2009.)