Sustainability: it's not a word usually associated with the fashion industry, yet one that consumers are increasingly seeing more when we go shopping. But is sustainability just the next "trend" in fashion - or something that companies are actually moving towards?
Currently:
Approximately 20% of industrial water pollution comes from textile manufacturing.
Textile dyeing is the second largest polluter of water globally.
The fashion industry alone emits 10% of global carbon emissions, more than all international flights and maritime shipping.
43 million tons of chemicals are used in textile production every year.
Green America's new report explores a variety of environmental and social challenges in the fashion industry in this report and looked at 14 major American apparel companies frequently found in shopping malls to see what, if anything, they are doing to address these issues in their supply chains. We reached out to companies with detailed surveys, read corporate social responsibility (CSR) reports when available, and reviewed corporate websites. Our partner, Fashion FWD, also contributed to this report.
Some of our key findings include:
• Large commitments without concrete plans, metrics, or timelines: Companies often say that they have a policy addressing an environmental or labor issue without going into detail about what they are doing to measure their progress or achieve their goal.
• Transparency is improving but mostly still lacking: four companies (Target, VF (which owns The North Face and Jansport), Nike, and Gap) identify chemicals used in their supply chains through a Manufacturing Restricted Substances List (MRSL), and an Restricted Substances List (RSL), while three companies (Ascena Retail, The Children's Place, Urban Outfitters) rely on an RSL as their chemical management policy. An MRSL restricts chemicals used in the manufacturing process, while an RSL restricts what chemicals can be found in the final consumer product. Meanwhile, six companies (Target, VF, Nike, Gap, Ascena, Abercrombie & Fitch) list factories that they source from.
• Token sustainability initiatives and brands: Companies are increasingly incorporating sustainability efforts into their policies, but often will use one policy that addresses an issue in some detail or produce a line of clothes made a little more sustainably to demonstrate their commitment to sustainability when in reality, they are not addressing most issues in their supply chains.
• Leaders and laggards overall: While none of the major brands are true leaders in the field, Green America identified the following companies as having better environmental and labor practices – Target, VF, Nike -- and several companies that were clearly laggards – Carter's, J.Crew, Forever 21.
Overall, we found that companies are starting to move in the right direction, but much more has to be done to fully address the scope of the environmental and social challenges in textile supply chains.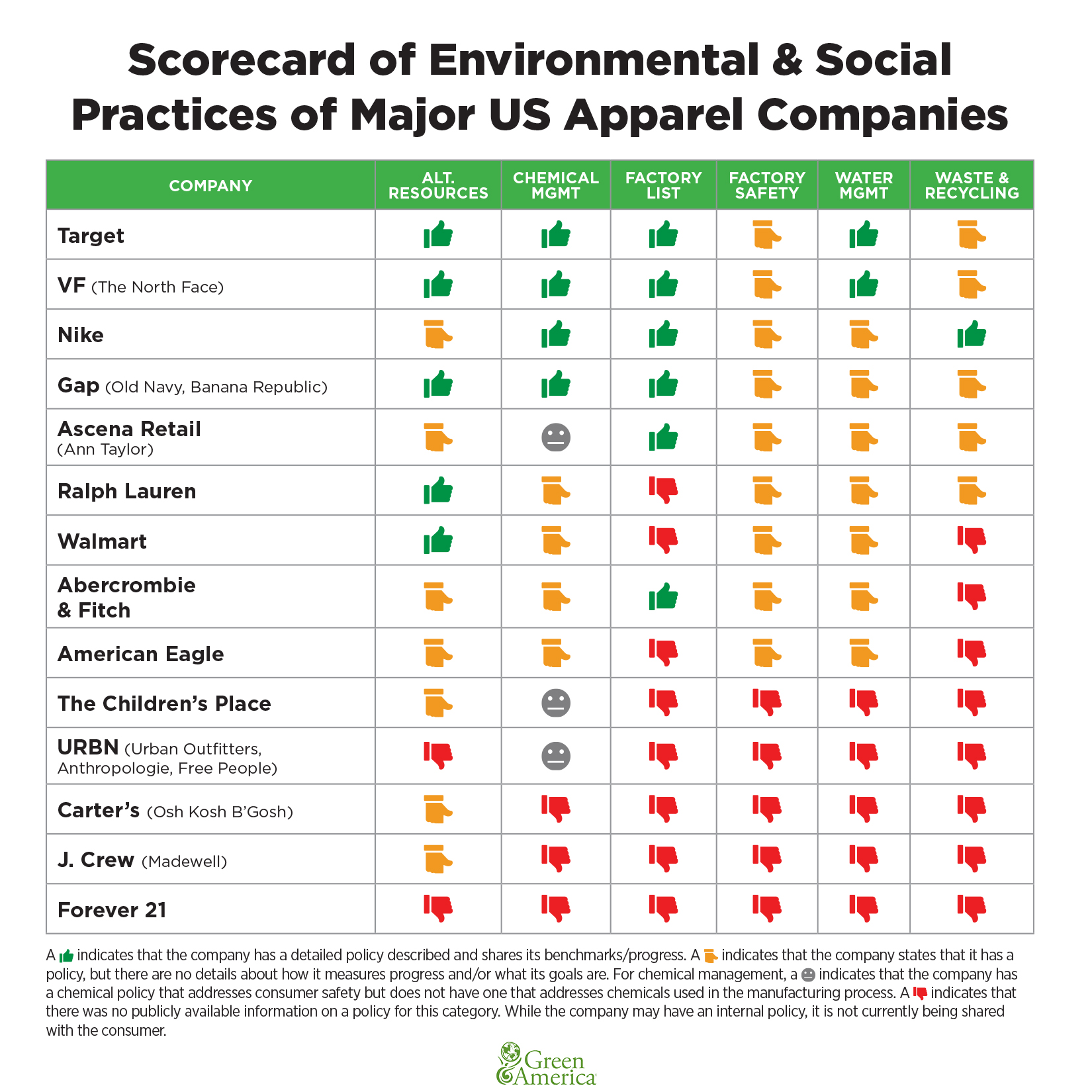 Read more about the scorecard here.
Consumer interest in reducing waste and consumption has led to increase in in-store recycling programs and the rise of the secondhand market. While the solutions are not always perfect, they are steps in the right direction.
When consumers want something, the markets listen – and we must continue to demand more of companies.