90 percent. According to the EPA, that's the amount of time the average American spends indoors. Here are some tips to seeking out furniture that is eco-friendly and can help ensure time spent in your home is toxin- and waste-free. 
1. Just say "no" to ....
Flame Retardants: Though chemical flame retardants are no longer required on upholstered furniture by law, some manufacturers still use them on the fabric and inner foam padding. Flame-retardants have been associated with cancer as well as reproductive, developmental, and neurological disorders. Buy from green businesses, or a retailer that has pledged not to use these chemicals. 
Unfair Trade: Discount furniture can be produced at low costs because workers who create it are often paid remarkably low wages. Alternatively, buying fair trade ensures that workers labor under healthy, cooperative conditions and earn a living wage plus a premium to improve their communities. Or, buy from indie artisans.
"Built to Break": Trendy designs from "fast furniture" companies aren't built to last and promote rampant furniture buying, contributing to deforestation and burgeoning landfills.
2. Buy Local
Furniture parts and pieces often come from a variety of locations before they arrive at your favorite retail furniture store. Shipping between these locations requires more gas and therefore, more greenhouse-gas emissions. Purchasing furniture from local stores that are made by local artisans helps reduce excess shipping and keep money circulating in your local economy. 
3. Choose natural fabrics
For upholstered furniture, consider linen or organic cotton. Linen needs few chemical inputs to grow, and organic linen is an even greener choice. Organic cotton is grown without the use of synthetic pesticides and wool is naturally flame-resistant. 
4. Get eco-friendly wood
Look for wood furniture made from reclaimed wood and from wood certified by the Forest Stewardship Council (see #8).
5. Keep space in mind
Buying furniture that serves multiple purposes and can be disassembled can help save space in your home. Get a small table that can act as a both a night stand and a meal tray, or a bed frame with attachable dresser drawers. These neat qualities can ensure you get the most out of your investments and make for easy recycling in the future. 
6. Use recycled pieces
Buying recycled means using fewer resources and materials overall for manufacturing. "Recycled" is different from "recyclable"—the latter has been made with new resources, but it still has an eco-benefit. Recyclable pieces can be broken down into parts that are a single material, which can then be more easily recycled. "Recycled" could mean your furniture is made from recycled plastic or metals, or reclaimed wood. 
7. Look for heirloom quality
Heirloom-quality furniture made with durable materials can save resources and money. Invest in high-quality furniture pieces that will not only not have to be replaced, but can be passed on to younger generations and preserve family history. 
8. Know your labels
Look for these labels to be sure your furniture products are environmentally sustainable.
The Forest Stewardship Council (FSC): ensures lumber comes from sustainably managed forests or reclaimed sources. Dozens of types of wood are produced in FSC-certified forests, in which the trees are regenerated, biodiversity is conserved, and air and water quality are preserved.
The Rainforest Alliance helped establish the FSC in 1993 and uses similar criteria for certifying good forestry practices, with an emphasis on conservation and local livelihoods. The Rainforest Alliance Rediscovered Wood Certification certifies reclaimed wood as having been recovered sustainably.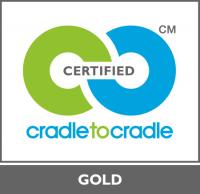 Cradle to Cradle Certification is given to products and systems that mimic nature and are efficient, fair, and waste-free. The certification evaluates products on the criteria of safety of the materials, use of renewable energy, and water stewardship, as well as how well the manufacturer closes the waste loop. Its final category, "social fairness," checks in on the fair pay and treatment of workers as well as conditions within the supply chain.