Credit: dimarik/ iStockPhoto
Walk, Bike, or Take Public Transport
You can significantly reduce your carbon footprint by walking, biking and taking public transportation whenever possible. For those times when you're going short distances but need an extra hand for groceries and the like, consider getting a set of panniers, a basket, or a cargo-hauler attachment from Xtracycle, which can turn your bike into an "SUB" (sport utility bicycle)
Biking in itself has the potential to reduce carbon emissions from urban transportation by up to 11 percent, according to a study done by the Institute for Transportation and Development Policy (ITDP) and has been found by scientists to be more energy efficient than walking and running. Better World Club provides eco-friendly insurance and roadside assistance for bicycles, and advocates for causes including bike lanes.
For longer distances, check out routes on your local transit system and Google Maps, which can help you plan your trip down to the minute.
Consider an Electric or Hybrid Car
Even when plugged into the current coal-riddled power grid in the US, electric vehicles (EV) cut down on climate emissions over gas-powered cars by 54 percent, according to a 2015 study by the Natural Resources Defense Council. Plug-in electric hybrid vehicles (PHEVs) have many of the climate benefits of EVs, but they can also run on combustion engines, which gives them the range of conventional cars. While a regular hybrid car won't get the miles per gallon equivalent that an EV or PHEV does, it will still curb your emissions considerably over a gas-powered car. Save money by taking advantage of federal tax incentives on certain EV, PHEV and hybrid cars at fueleconomy.gov/feg/taxcenter.shtml.
Alternative fuels are also an option. Biodiesel or renewable diesel made from used vegetable oil collected from restaurants make any diesel vehicle low-emission.
FIND THE RIGHT EV
In the market for an electric vehicle (EV) or plug-in hybrid electric vehicle (PHEV)? Use the PlugStar Virtual Assistant to find one to meet your needs. First, you can customize searches for electric cars and dealers according to location, budget, and preferred vehicle type (i.e. sedan or SUV). Then, the Virtual Assistant asks you questions about your driving habits to figure out whether an EV or PHEV would work best for you. For a person living in Green Bay, WI, who drives ten miles to work, uses the car to run errands and take 3-4 long trips per year, and is able to make a car payment between $200-$300/month, PlugStar recommended a PHEV like the Chevolet Volt, the Nissan Leaf, or the Toyota Prius Prime.
Share a Ride
Instead of buying a car, find local sharing programs—where you sign up to check out a car, truck, van, or SUV from a pool of vehicles only when you need it—at CarSharing, ZipCar, and Enterprise Car Share.
More people who share a car instead of driving solo means fewer global warming emissions. If you'd like to share a ride for a one-time event (like a concert) or on the regular basis (like to work), find other carpoolers at Zimride or Erideshare.com. Carpool To School enables safe carpool, walkpool or bikepool for students to school.
If you prefer an app, try Waze Carpool for iPhone and Android, which connect you with drivers and riders headed in your direction for carpooling and cost-sharing.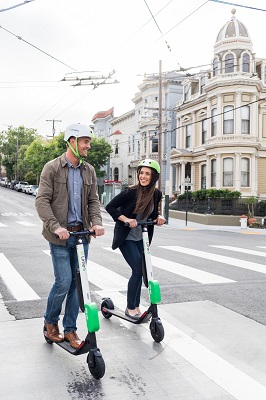 Green Transportation Trends
These new modes of cleaner transport could soon be coming to your community:
Electric Scooter Rental: Electric scooters don't generate carbon emissions while they run, and using them for short trips helps reduce the number of cars on the road (though riders need to remember to follow traffic laws to avoid creating a different kind of menace!). In March 2018, the start-up electric scooter company Bird announced plans to launch its scooter rental outlets in 50 cities in the US and abroad. The idea behind Bird is simple: using a mobile app, customers can locate a nearby electric scooter to rent for 15 to 20 cents per minute. So far, Bird has debuted in 39 US cities in 18 states and the District of Columbia, as well as Tel Aviv and Paris. Bird's competitor, LimeBike, offers a similar service, providing e-scooters and e-bikes in 80 US cities, 25 US college campuses, and six EU cities.
Boring Trains: Elon Musk's Boring company continues targeting major US cities for new projects. In July, the company got the green light from Chicago officials to develop the Chicago Express Loop—an underground electric transit system using electromagnetic pods—which will connect users from O'Hare National Airport to downtown Chicago. The company is planning a similar system from East Hollywood to L.A.'s Dodger Stadium called the Dugout Loop, slated for 2020. And both the Maryland and DC governments have approved preliminary site exploration and conditional excavation for the company's ambitious DC Hyperloop, which would take customers from DC to New York City in 29 minutes, with stops in Baltimore and Philadelphia.
Cleaner Airplanes: In 2016, the Solar Impulse Foundation sent a solar airplane around the world, proving that solar-powered air travel is indeed possible. For now, experts agree that solar modules need become be just as powerful as traditional jet fuel before solar planes can move beyond an exploratory phase. In 2016, Vox.com reported on other innovations in the works like carbon markets, in which airlines that go over a federal carbon cap would invest in reductions in CO2 emissions in other places. If biofuels made from rapidly renewable feedstocks like algae prove to be plentiful and affordable, they could also serve as green alternatives to jet fuel in the future.