Why Switch Banks? On Account of the Climate and Chickadees (and whatever you love)
Not too long ago, those sentences would not have made sense to many people. And while there is still a big learning curve, more and more people are understanding the role that conventional big banks play in financing the climate crisis.
Unfortunately for people and the planet, the big US banks continue to dominate global financing of oil, natural gas, and coal infrastructure. And – unconscionably – even the expansion of fossil fuel infrastructure. All this, despite the increasingly dire warnings about the escalation of the climate emergency.
Clearly we need to take every action we can, individually and collectively, to build the clean energy economy that the times demand. And one more important strategy to pursue is to use a bank or credit union that does not invest in fossil fuels and that supports the well-being of communities.
Joelle Novey, a former Green America staff member and now the executive director of Interfaith Power & Light (DC.MD.NoVA), shared her banking switching experience with Fran Teplitz, Green America's executive co-director for business, investing, & policy.
Fran: Joelle, it's great to reconnect with you! I was delighted to hear about your bank switch, but before we dive into that, please tell our readers a bit about your background and how green living became a priority for you.
Joelle: I grew up in Baltimore and remember receiving what was then called "Co-op" America's publications in the mail as a teenager, which first introduced me to the idea that our choices to buy and not buy could advance or contradict our values.
Many years later, I re-discovered the organization through the DC Green Festivals, and then for several years I joined the Green America staff as a writer and screener of applicants to the business network.
For the last dozen years, I've been working with communities of faith and spirit as the director of Interfaith Power & Light (DC.MD.NoVA) inviting communities to reflect on how their own values call them to respond to the climate crisis.
And in that time, I've also become the parent of two kids, ages 7 and 3, with both the deepened purpose and endless balancing and distraction that brings.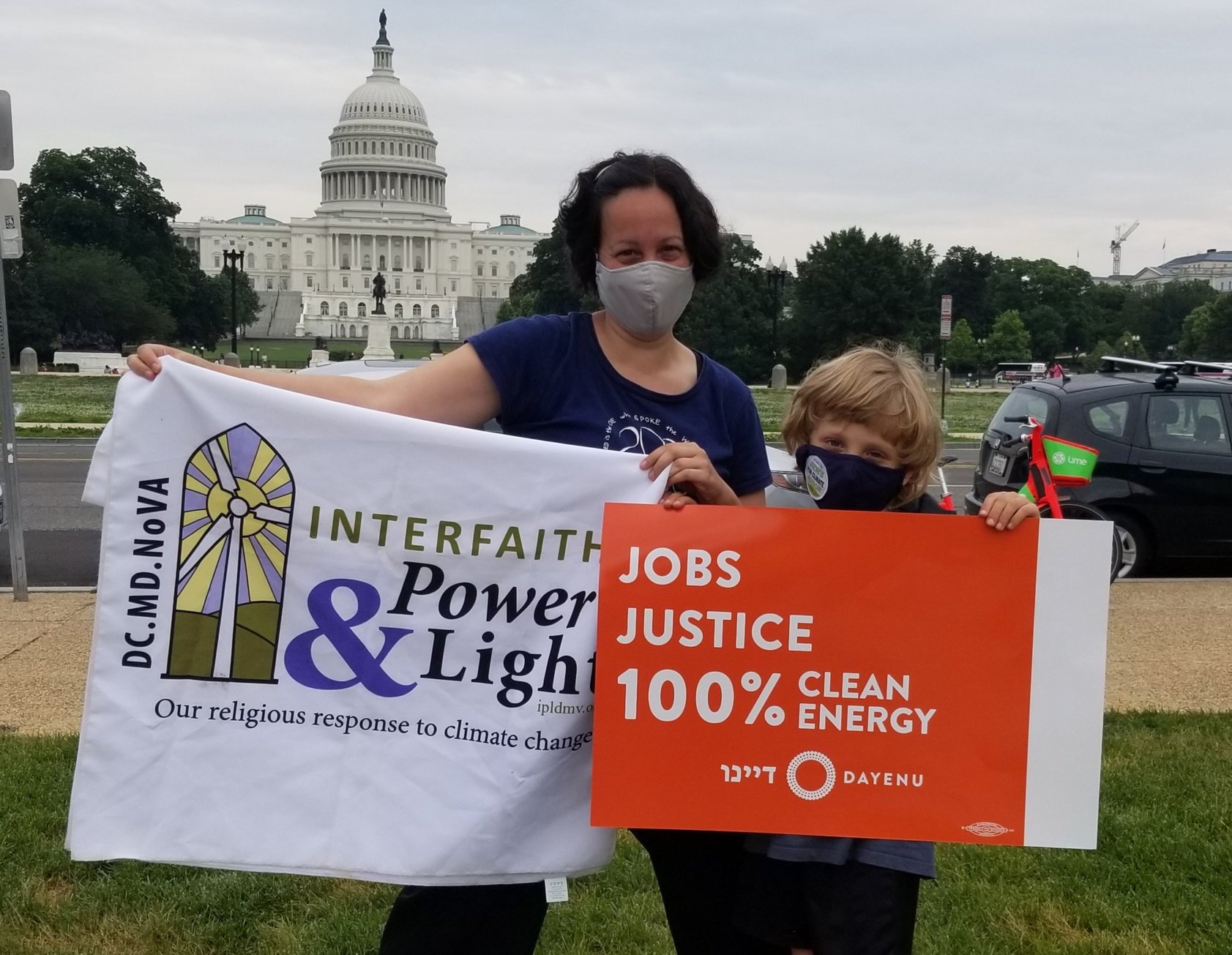 Fran: When did you first start thinking about the social and environmental impacts of your banking?
Joelle: To be honest, more than a decade ago, when I was still a writer at Green America, I interviewed someone for the National Green Pages, who was an avid bird watcher who changed financial institutions out of concern about the impact climate change was having on the animals she loved.
And I got to write one of my favorite opening lines I ever wrote for a piece in a Green America publication: "It was on account of the chickadees" that this lady "switched banks."
Why, more than twelve years after I myself wrote an article celebrating switching banks, with step-by-step instructions, was my own day-to-day checking account still in a conventional name-brand bank that invests in fossil fuels?
It's not something I'm proud of, but perhaps those reading this can relate. Every time I looked into it over the years, I got tripped up by the conveniences of my old bank, which seemed to me to be unavailable at the better banks. As the demands on my time had grown, I'd become completely reliant on the conveniences of mobile deposit, of my bank having an app on my phone, and of having a major brand debit card tied to that checking account.
Fran: What spurred your leap to a better banking option, in your case, a credit union?
Joelle: I'd explored and rejected switching banks a few times over the years, but finally a friend posted on social media that the Clean Energy Credit Union had mobile deposit, a phone app, and a name brand debit card, and it got me to look again.
So one lesson is – share the green steps you're taking publicly! Don't be shy. We can get so much encouragement and good information from each other on this journey.
When I looked into the Clean Energy Credit Union and concluded I'd at last found my new, green, everyday checking bank, I recalled the advice of my long-ago interviewee who switched banks on account of the chickadees. She advised people seeking to switch banks, as does Green America, to do things incrementally, over a number of months, which is what I did: open the new bank account first, move routine things like direct deposit of one's salary and other regular payments over to the new account and new card over time, and then the very last step of all is the closing of the old account – and telling the old bank why you left
Over time, various different apps I use that had my old debit card information stored had to be set up with my new account, taking a little bit of work each time, but spread out over a long time: the rideshare apps, the Paypal and venmo apps, subscriptions to various media, parking and car-charging apps. One at a time, I just had to remember, "oh I have to update this too," and take the moment to enter new payment information.
But I took it slow and just let myself get it done incrementally over the course of a number of months, as each thing arose in the course of daily life. 
Fran: What were the most important reasons for you personally to switch banks?
Joelle: Look, we're not in a climate crisis because I was keeping a few thousand dollars in a conventional bank's checking account, or because of the daily purchasing or recycling or lightbulb choices of anyone reading this. We're in a climate crisis because a few enormous corporate polluters have been allowed to damage our earth's climate without limit or consequence for the last few generations.
And the only answer to that is the formation of a grassroots movement strong enough to change laws and shift our entire society off of the extraction and burning of fossil fuels.
That said, we are all deeply enmeshed in the fossil fuel-based economy of the past, and I think it's important and meaningful to try and disengage our daily lives from those systems even as we come together to fight for systemic change.
I once heard the prison abolitionist Mariame Kaba say that every single time you resolve a conflict successfully without involving the state or the police, you are helping to create openings in your own life for the future we need. 
And that's a little bit how I feel about my new green steps this year, which were that my family finally had the opportunity to transition to an electric (hybrid) car, around the same time that I also began moving my daily checking to a bank that reflects my values. 
I have a lot of compassion for all of us in this generation who find ourselves so enmeshed in fossil fuel-based systems of transportation, food, and finance that we have come to understand are inconsistent with a livable future. Living partly or mostly stuck in those systems while carrying that knowledge with more and more urgency and clarity takes a psychic toll on all of us; it makes me heartsick and requires compartmentalization to keep carrying on like that.
But every time we successfully get where we're going, manage to prepare a meal or cash a check, without burning more fossil fuels, we're showing ourselves and each other that another world is possible. Around the Jewish holiday of Passover this year, I'm planning to participate in an action in DC that will be calling out Bank of America, BlackRock, Chase, CitiGroup, and Wells Fargo. It feels liberating this Passover to know I'll take that action having removed at least the most frequently used bank account in my name from its complicity in what these financial institutions are doing.
Fran: So what ultimately made the bank switch possible for you?
Joelle: For me, the technical and practical convenience was a precondition for doing this. The other thing I was looking for was a bank that didn't just not invest in dirty energy but was actively hastening the clean energy transition. I know from my work with congregations that the availability of financing for solar panels, for example, can make all the difference in moving clean energy projects forward. So I wanted my funds not to just stop being complicit in bad things but actively invested in support of good things. For these reasons, I chose the Clean Energy Credit Union.
Fran: That's terrific! The Clean Energy Credit Union is also a certified member of Green America's Green Business Network.
Every credit union has membership requirements, and it's great that your membership in Green America and Solar United Neighbors opened the door to your eligibility to join the credit union.
We're very pleased that all Green America members -- and the people in their households -- are eligible to join the Clean Energy Credit Union.
So how's it going with the credit union? What advice do you have for others who want their banking life to reflect their values?
Joelle: It's great! This is a small and symbolic thing, but the Clean Energy Credit Union debit card actually has a happy painting of a future climate stable world on it, with a vegetable garden, solar panels, a rain barrel, people biking and charging up vehicles, and a wind turbine in the background against a blue sky. Several times a day as I took out my old debit card – too often because I needed to gas up my old car – I used to just try and push aside the misalignment I felt, or the futility I felt that even I, a full-time climate activist, couldn't manage to do any better. Now each of those little moments of feeling defeated has been transformed by my happy little debit card into a jolt of hope, a reminder that we're prototyping and creating the new world we need already, inside the shell of the old. 
Fran: How are you spreading the word and encouraging others, whether individuals or institutions/congregations, to ensure their banking is in accord with their values and the imperative of building a clean energy economy?
Joelle: Doing things in community is always easier – that's the insight that makes Green America such a powerful and encouraging organization, by letting people know we're all working to shift into the kind of life and world we need together. I know one synagogue near me, Adat Shalom, had a months-long campaign during which dozens of members opened a Green America credit card in community, and began the process of shifting away from their old cards.
Fran: That's right! We worked with that congregation and feature the congregation's "card switch". What are your next green finance steps?
Joelle: As we speak, I'm waiting for one more thing to clear through my old account, and then I'll be closing the account for good. I'll use Green America's resources to make sure to tell my bank why I'm leaving – they're well known for investing in mountain-top removal coal mining and other destructive practices – and share what I did on social media to spread the word.
The next steps are to work with my spouse on some of the accounts that we share jointly. In cases where we can't get the absolutely lowest rates or best conveniences with the better banks, then we need to have the serious conversations about how much it's worth to us to align in this way. 
It was on account of everything and everyone I love that I finally switched banks.