The telecom sector uses enormous amounts of energy each year: enough electricity to power all the households in New York City. The four largest companies – AT&T, Verizon, Sprint and T-Mobile – collectively use more than 30 million MWh of electric power each year.
This energy powers wireless access networks, data centers, towers and other infrastructure allowing cell phone users to access data and connect nationwide. Until recently, the vast majority of this sector was powered on fossil fuel energy - but this is starting to change.
Since Green America launched Hang Up on Fossil Fuels in 2017, thousands of individuals have reached out to telecom companies through petitions, social media, calls, and letters urging commitments to 100% clean energy. We've seen a lot of movement since then, and this report lays out the past year's progress and how much more work there is to do.
Based on publicly available data and information provided directly to Green America by companies, we graded each of the companies on actual progress on increasing clean energy and their commitments to adopt clean energy.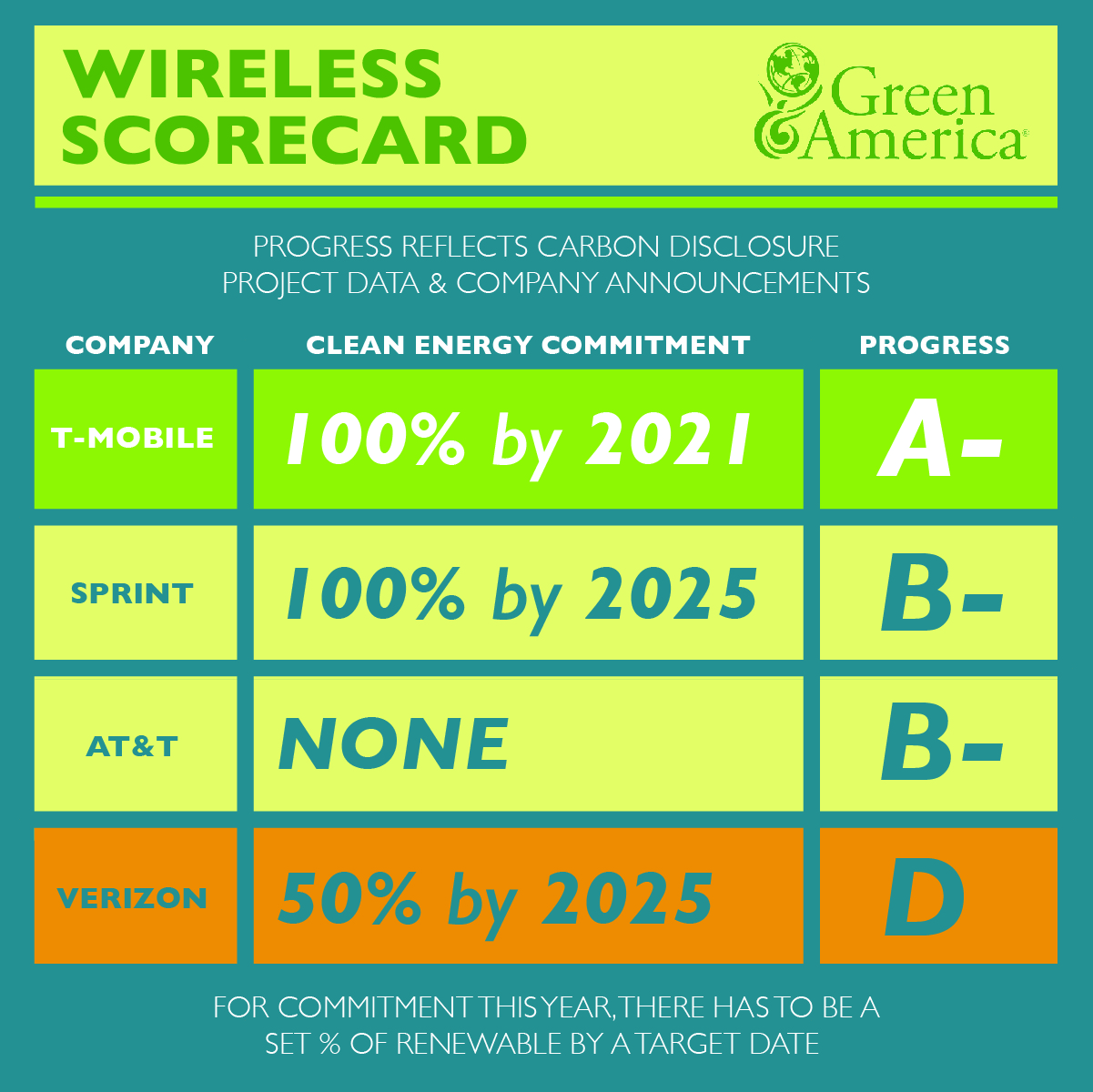 KEY REPORT FINDINGS
Clean Energy in Telecoms 

T-Mobile's commitment to reach 100% renewable energy by 2021 remains the most ambitious goal in the sector. In 2020, T-Mobile reached 95% renewables and completed its merger with Sprint. T-Mobile is preparing an updated timeline for its newly expanded network to reach 100% renewables.
In 2019, prior to merging with T-Mobile, Sprint announced its first clean energy project which the company stated would provide roughly 30% of its energy use. In November of 2019, Sprint announced a commitment to 100% renewable energy by 2025.
AT&T has purchased more than 1.5 gigawatts of clean energy since 2018, which we estimate equals approximately 25-30% of its total energy. It currently does not have a target or timeline for renewable energy.

Verizon recently announced a purchase agreement for 130 MW of capacity as the first move to meet its goal for 50% renewables by 2025, but it remains far from meeting this target. We estimate that Verizon's new wind project will provide 3-5% of its total energy use.
Energy Intensity and Usage
AT&T, Verizon, and Sprint have all lowered their energy intensity (increased efficiency) over the past decade. As a result, AT&T and Verizon have kept their energy use and emissions relatively constant, however, in 2018 AT&T reduced its total energy use and reduced its emissions.
T-Mobile is the only company to see an increase in energy usage over the past decade. In comparing the four companies regarding their energy intensity in relation to revenues or customers, AT&T and Verizon use far more energy per customer than Sprint or T-Mobile.
Overall Greenhouse Gas (GHG) Emissions
T-Mobile has committed to reduce Scope 1 and 2 emissions 95% from a 2016 baseline year by 2025. In 2019, Sprint set a goal of 100% carbon neutrality by 2025. AT&T continues to see progress on its goals to reduce its Scope 1 emissions by 20% and has exceeded its goal to reduce Scope 2 emissions by 60%. Verizon has committed to reduce its Scope 1 and 2 emissions 100% by 2035 from a 2018 baseline year.
In this report we track both Scope 1 emissions (from sources that are owned or controlled by the organization) and Scope 2 emissions (from the consumption of purchased energy). In the telecom sector, Scope 2 emissions are much greater per company than Scope 1 since most of the energy used is purchased electricity, which is why the rapid transition to renewables is so important.
COVID-19 Impacts
As communities take the necessary precautions to avoid spreading COVID-19, we've relied more than ever on networks to stay connected while physically distancing. AT&T has reported a 26% increase throughout its core network (business, home broadband, and wireless data). Voice calling has been up between 50-90% since regions began stay-at-home orders. The use of Wi-Fi calling minutes has been up more than 100% since late March. T-Mobile and Sprint both report significant increases in usage as well.
This increased traffic is likely to result in an uptick in energy consumption. As the growth in data traffic is observed to outweigh gains of energy efficiency, and as many workers in the US will continue to work from home after the COVID-19 crisis is over, it is all the more crucial that this sector builds on recent progress and commits to reach 100 percent renewable energy.
Social Justice in Clean Energy
Shifting from fossil fuels to renewables is a key component to advancing environmental justice. Fossil fuel extraction, combustion, and waste disproportionately impact communities of color. Impacts from fossil fuel plants are suspected contributing factors to higher mortality rates in these communities as they are more exposed to pollution and witness significant health impacts.
In the transition to renewables, it is also essential to ensure that jobs in wind and solar benefit impacted and under-served communities. And when solar and wind facilities are built in or near vulnerable communities, those communities must have key roles in the process and obtain benefits from the installations.
Transitioning away from fossil fuels in a sustainable way means ensuring renewable energy firms have responsible labor practices, support all communities, and are advancing diversity, equity, and inclusion throughout their companies.
Solar employs the most people of any electric power generation sector with nearly 250,000 employees, despite most electricity still coming from natural gas, coal, and nuclear power. This demonstrates the incredible potential for job creation as we continue to shift from fossil fuels to clean energy. But unionization in the electric power generating sector is just 4-6% in the solar and wind sectors.
Regarding diversity in the sector, women reportedly make up less of the solar and wind workforces versus the overall workforce average. Latino and Asian employees are more represented in solar and wind power than in the larger workforce. African American employees are underrepresented in both solar and wind power. It is clear that much more work needs to be done to diversify the fast-growing renewable energy sector.
The major telecom companies all state commitments to working with diverse firms, including those that are minority owned, women owned, LGBT owned, veteran owned, disability owned, and SBA-defined small and disadvantaged businesses. But the companies do not indicate a preference for unionized labor or for women and minority employees in their contracts for renewable energy. For more information on employee diversity in the clean energy section and details on each telecom, please see page 9 in our report.

TAKE ACTION
The telecommunications industry can make great strides in reducing fossil fuel use, which requires the major companies achieving clean energy goals in a responsible timeline. Clean energy options are increasing every year, in large part to satisfy the demands set by major corporations, states, municipalities, and other institutional purchasers. It's time for telecoms to #cleanupwireless by reaching 100% renewables by 2025.

---
Tell Verizon and AT&T to commit to 100% clean energy
Previous versions of our Clean Energy is Calling report can be found here: V1, 2018 and V2, 2019.