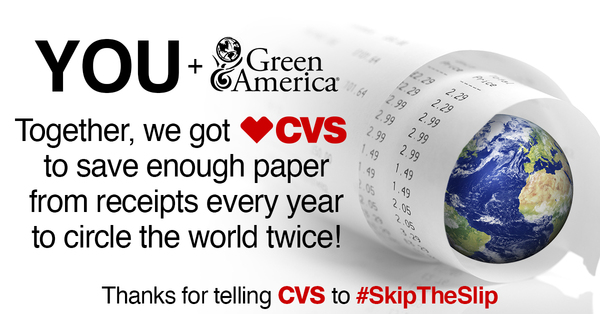 Campaign Updates and Victories!
(May 30, 2023) Big news on Green America's Skip the Slip campaign! California state legislation that bears our campaign's name has passed the Assembly (May 30, 2023)! Assemblymember Phil Ting (D- San Francisco) is sponsoring the legislation that gives customers the option of getting a non-toxic paper receipt, getting an e-receipt, or getting no receipt at all at most businesses in the state.
Assemblymember Ting was inspired by our campaign Skip the Slip and originally introduced a bill in 2019. After listening to the input of businesses and consumers, the bill is back and is headed to the California State Senate. Thanks to all of you who have taken action on this campaign and look for more updates and action alerts soon.
---
Thousands of you joined our campaign urging CVS to address its wasteful, toxic paper receipts and this pressure led to a dialogue between Green America and CVS on its receipt practices.
Because of our Skip the Slip campaign, CVS Pharmacy, the largest pharmacy chain in the US, worked with Green America to make some real progress on receipts and paper.
CVS implemented BPA/BPS-free paper in all 10,000 of its stores.
In April 2022, CVS added a new receipt prompt at cash registers so that all customers could choose to receive a printed receipt, digital receipt or no receipt. Four months later, the receipt prompt saved 87 million yards of receipt paper, enough to circle the globe twice.
CVS reports phasing out print circulars in 2/3 of its markets, resulting in a 70 percent reduction of paper use.
How Store Receipts Impact People & the Planet
Every year, receipt use in the United States consumes over 3,680,000 trees and over 10 billion gallons of water.
Receipt production uses enough energy to operate nine million refrigerators and emits the greenhouse gas equivalent to over 471,000 cars on the road each year.
Most thermal paper receipts are coated with BPA or BPS - BPA has been banned from other items because it contributes to developmental, reproductive, and neurological problems.
It's estimated that retail workers have 30 percent more BPA in their systems than other adults. Nearly 81 percent of Americans have detectable levels of BPS in their systems, and 90 percent of our exposure to BPS comes from thermal paper receipts.
The Solution: Skip the Slip
Green America's "Skip the Slip" campaign is one of the first initiatives in the United States to analyze environmental and human health impacts of receipt usage and waste, propose solutions for businesses, and engage consumer action.
We want to eliminate toxic chemicals from thermal paper and to reduce the waste of paper receipts. Many retailers are already making the choice to offer a digital option and use non-toxic thermal paper, but the majority of stores still need to take action.
Our new report highlights cost-effective digital and non-toxic solutions for retailers to protect their employees and customers, and reduce impact on the environment. Businesses will walk away from this report with a deeper understanding of the unnecessary impacts receipts have on the environment and human health, and also be equipped with next steps for better receipt practices.
Access our full Skip the Slip report on receipts.
Since we launched the Skip the Slip Campaign, we've seen significant progress in addressing waste and toxic chemicals from major retailers, including CVS, Target, and Walmart.
Our campaign is making paper-based receipts safer for people and recyclable, while also getting retailers to offer and promote digital receipts that are better for the planet.
How do Corporations Rank on Receipts
Ways to Take Action
Sign up for digital receipts on retailer's apps, websites, or in store.
Urge companies to improve receipt practices on social media (#SkiptheSlip).
If you're a business owner, check out our report for best receipt practices.
Environmental impact estimates were made using the Environmental Paper Network Paper Calculator Version 4.0. For more information visit www.papercalculator.org