Long Island, NY
Fifteen years ago, when Swati Srivastava and Mark Bartosik, two expats from India and England, looked out at their "typical American lawn" in Bayshore, New York, they felt they had two options: water, water, water to dispel those pesky yellow patches of dying grass or... transform the space entirely.
Planting to Problem Solve
Srivastava and Bartosik share a love of life and an abhorrence of waste. Their Climate Victory Garden appears the perfect manifestation of those values as a fruitful solution for green living.
What started as planting a few shade trees to preserve their Long Island lawn has flourished into a fruit orchard that surrounds three vegetable plots (of about 350 square feet), an herb garden, a gazebo woven with grape vines, and a compost pile—all of which contribute to their no-spray butterfly habitat. When summer comes, Srivastava and Bartosik live almost exclusively off what they grow in the backyard.
"It was a very slow thing," Srivastava says. "We were just doing what seemed right: let's not waste water. Let's not waste electricity. Let's not waste peelings and food scraps."
Gardening allowed Srivastava and Bartosik to create a waste-free oasis: grass is well-shaded and allowed to grow longer to reduce irrigation, which then reduces electricity; all organic scraps from their kitchen become part of the compost pile which is used as fertilizer for the vegetable plots and fruit trees. "Before bringing any new plant life to our property, we ask ourselves, 'How is it going to earn its keep?'" Bartosik says. Whether by providing shade or sustenance, each plant has a job to do, which makes a garden teeming with sustainable and symbiotic life.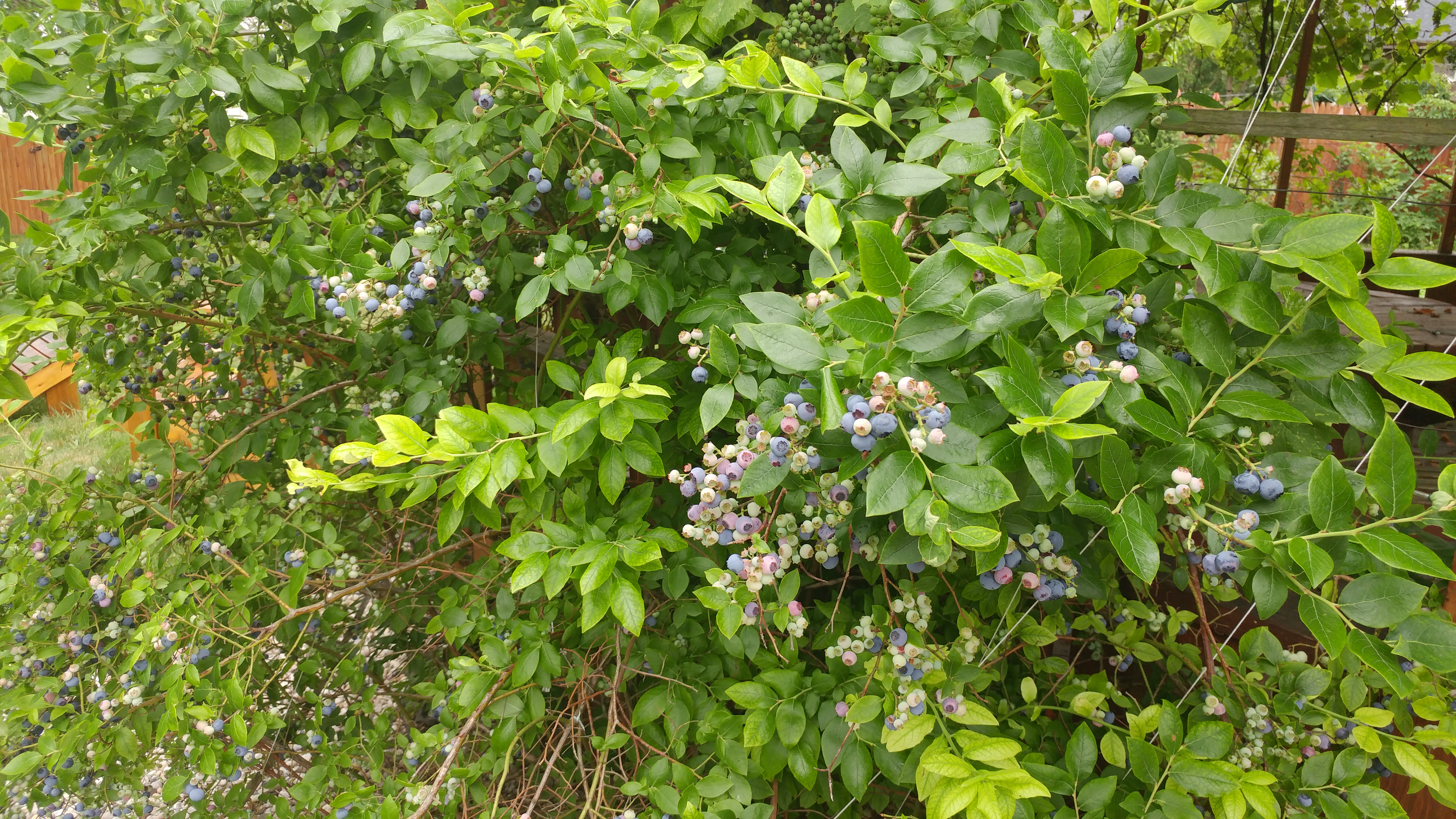 "We're okay with every year being different," adds Srivastava. "Some years we have so much of one thing and something else completely dies and doesn't work."
This resilient kind of approach makes the gardening process feel more like an interactive adventure, where each plant has a mind of its own. Even the compost pile fights to be seen and contribute, like when a few discarded butternut squash seeds took root and suddenly produced an unplanned "monster plant" that took over the garden, yielding 40 incidental butternut squashes amongst the other vegetables.
Fruits and Vegetables Galore
"The first thing that comes to life are the berries," Srivastava explains, excitedly. Summer blueberries, blackberries, red currants, and raspberries are followed by a cornucopia of root vegetables, sweet peppers, cucumbers, and tomatoes. Not to mention the cherry, peach, apple, pear, and nectarine trees.
When discussing their garden, Srivastava and Bartosik speak with euphoric passion. They describe a turnip harvest that smelled so good, they couldn't help but wipe off the dirt and take a bite right there in the garden. They explain how the best jam comes from collecting warm blueberries on a summer morning and squishing them directly onto toast.
"There is nothing that compares with the taste of fresh food when it comes from your garden with zero food miles. To walk out on a hot, sunny day and pick off warm tomatoes and put them in your mouth where they pop," says Srivastava, cradling her hands around an imaginary tomato.
"The taste of the food that comes from your garden... it gives you joy."
To Potential Gardeners: Get Your Hands Dirty, Now
For those who might be considering a Climate Victory Garden but are holding back for one reason or another, Mark Bartosik has an encouraging response that is so logical and simple, it might get you over the hump—don't wait.
"Yes, it may take some five years for a blueberry bush to get really big and give you a big harvest... so you had better plant it sooner, hadn't you?"
Despite not growing up with green thumbs—Srivastava's family in India had an occasional pot of basil and Bartosik liked to climb the apple trees of his grandparents' orchard—they are both insistent that their garden has not been an overwhelming challenge. They recommend starting with berry bushes because they come back year after year and to never underestimate community. They have learned lessons from local farmers and even given back, like when their local CSA (Community Supported Agriculture) had a bad rosemary harvest, so the couple shared their abundance.
Srivastava and Bartosik own a net-zero energy home on Long Island, where technologies such as geo-thermal and solar energy generate as much (or more) energy than they consume. In the past they have opened their home to over 200 people as part of an Environmental Defense Fund program called The Solar Tour, inspiring others to go solar or work to lower their footprints. They hope to engage with similar events in the future and connect with like-minded people in their area and beyond:
"We need more community events for Climate Victory Gardens, for living net zero-energy life, so people in the neighborhood can meet each other and learn from each other."
This story was written by Olivia Liang and originally appeared in the Green American Magazine, Spring 2023 edition.