Being in nature is a health activity, even if it's just sitting on a park bench. Urban populations, especially Black and Brown communities, don't often get equal access to green space. These organizations are working to change that.
Whether it is a beach, mountain trail, campsite, or local park, being in a green space has the power to nurture human health. Spending at least 120 minutes per week in nature can lower risks for cardiovascular disease, mental distress, and myopia among children according to an article published in the 2019 issue of Nature. Simply, living near green spaces reduces the risk for mortality, according to a 2019 Lancet Planetary Health study. But for those who live in urban and industrialized environments, finding these spaces isn't easy. 
Green Spaces for Environmental Justice 
Parks serving majority low-income households are four times more crowded than parks in wealthy neighborhoods, according to a 2020 study by the Trust for Public Land. Communities of color are three times as likely to live in nature-deprived areas as white Americans, according to a 2020 study by the Center for American Progress and Hispanic Access Foundation. In pursuit of greater access to urban green spaces, groups across the country are leading transformative green space projects that will allow everyone to reap the benefits of being in nature.
"The environmental justice, systemic racism, and socioeconomic issues that come with this work are so big that the way we feel that we're most effective is to work with one community group at a time and address those pressing needs," says Cindy Chang, executive director of the nonprofit organization Groundwork Denver.
Founded in 2002, the organization specializes in neighborhood-based projects that improve Denver's urban environment. One of its most recent is the creation of Platte Farm Open Space. Completed in August 2020, the 5.5 acre park is a brownfield-to-green space remediation project featuring native plants, walking trails, and playgrounds.
The park is located in the city's northern Globeville neighborhood—an area where 24 percent of families were living in poverty in 2017 according to the Piton Foundation.
A brownfield is defined by the EPA as a previously developed land not currently in use that may potentially be contaminated. In this case, in the 1880s, the mining company Asarco moved in and opened a plant which contaminated the land with chemicals. In 1983, Colorado filed a Natural Resources Damages suit under the Comprehensive Environmental Response, Compensation, and Liability Act (CERCLA), also known as the federal Superfund law, that designates sites that are hazardous to human and environmental health. Now that it has been remediated, replete with clean soil, prairie grass, and a retention pond to help with frequent flooding in the area, the park is promoting both human and environmental health.
Healthy Parks, Healthier People
Platte Farm Open Space is a project promoting both sustainability and justice as nature begins to thrive again in the area.
The same is true for the Browns Mill Food Forest in Atlanta; with seven acres of land, it boasts the largest food forest in the country. Food forests are gardens designed to mimic nature by including a wide variety of edible plants that grow in a layered design. Through partnerships with the city of Atlanta and nonprofits the Conservation Fund and Trees Atlanta, the project started in 2016 in pursuit of the mayor office's goal of having 85 percent of residents being within a half mile of fresh affordable food by 2022. Browns Mill, the neighborhood where the park is located is USDA-identified food desert and its surrounding forest was at risk for development.
To meet community needs, Atlanta's office of resilience, which handles environmental issues, and Conservation Fund created a steering committee which included residents, high school volunteers, and local organizations like Trees Atlanta which provides community education through park tours and Park Pride, which leads the community garden within the food forest.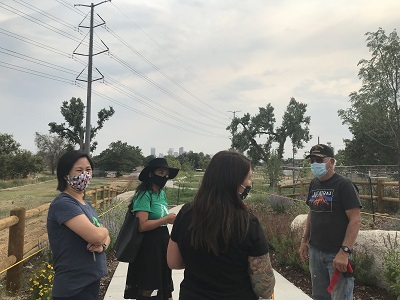 "One of the biggest concerns we heard from the community was about displacement. At the earliest phase, we wanted to acknowledge the possibility that having something like a food forest could raise rents, or increase property values," says Shelby Buso, chief sustainability officer for Atlanta's office of resilience. "By selecting a site where most of the houses were owner occupied, the hope was that if property values rise, those that actually live there would receive that benefit."
The land where Browns Mill Food Forest is located was once a family farm and with Atlanta being aptly called the "city in the forest," organizers are intentionally using the space for both growing food and local environmental education.
"It's wonderful to have a site that has a connection to an agrarian legacy, and we want to continue it. The forest is a seven-layer permaculture design that includes a canopy level, mushrooms, shrubs, vines, perennial plants, herbs, soil amendments, and many layers within each level," says J. Olu Baiyewu, urban agriculture director at Atlanta's office of resilience.
The park also has an on-site composting system for gardeners and a community collection program where families can bring fresh food scraps to be made into compost that further enriches Browns Mill Food Forest.
An Urban Parks Movement
With such projects, cities like Denver and Atlanta are helping citizens create new connections to the natural world, but there's still much work to be done around the country. Almost 80 percent Americans live in urban areas, according to City Park Alliance (CPA), and the nonprofit is advocating for the growth of more parks to meet the health needs of both communities and the planet.
CPA aims to harness the power of public officials, research institutions, design professionals, and recreational experts by creating a network of civic leaders working together to create park access, explains Catherine Nagel, CPA's executive director. During the summer, the organization will host a virtual conference and workshop series focusing on collaborative models for park creation.
"Parks and recreation departments have stepped into the role of emergency service providers using green spaces for hospital sites, vaccinations, and food distribution," says Nagel. "When it comes to the planet, the potential for urban parks to fight climate change is enormous because they provide flexible and multi-functional infrastructure that cities can rely on."
From Green American Magazine Issue