Community members often assist with the harvest of garden produce at Misión Peniel. Photo by Lisette Morales.
Immigrants and migrant workers are overwhelmingly the people responsible for getting food from fields onto American plates. When they don't make enough money for their own food, communities create solutions.
Over 2 million farms are scattered across America's rural lands, providing much of the produce, dairy, and meat products that fill grocery shelves from coast to coast. Yet many of the people working among the fruited plains and amber waves of grain are left out of the harvest bounty; millions of farmworkers across the US experience food insecurity. 
Food insecurity is a household's inability to provide enough food for every person to live a healthy life. Currently, one in nine people in the US struggle with hunger. Farmworkers in particular are exposed to food insecurity at disproportionate rates; 45 percent of Latino farmworkers in California's Central Valley reported food insecurity, according to a 2020 study. 
Hunger is a symptom of a much larger problem, however. Low pay, poor public infrastructure like unpaved roads, a lack of grocery stores, and language barriers all create significant challenges for farmworkers. 
Barriers Farmworkers Face
Bruce Goldstein is a practicing attorney and the president of Farmworker Justice, an advocacy nonprofit that seeks to empower migrant and seasonal farmworkers. Goldstein has been advocating for farmworkers for decades and says that low wages have a ripple effect on the rural areas farmworkers live in.
"Farmworkers' low wages often mean that they cannot afford food, or sufficient food, or healthy food for themselves and their family members," he says. "The poverty-level wages in farmworker communities also interferes with the ability to develop economic markets that can generate the businesses needed to have an infrastructure, including for food."
Immigration status also plays a big part in food insecurity. Labor economies like farming and construction depend on immigrant workers since many Americans have no interest in blue-collar jobs—a 2020 report from The Conference Board stated 85 percent of companies in mostly blue-collar industries reported recruiting difficulties due to a dramatic decrease in the labor supply. In the agriculture industry, it is much cheaper to hire undocumented immigrants than reluctant US citizens. Undocumented immigrants are unlikely to challenge unfair or illegal employment practices for fear of deportation. More than half of all field workers are undocumented, according to the American Farm Bureau. 
The pandemic has exacerbated these preexisting conditions. In a study from UC Berkeley School of Public Health, researchers found evidence to suggest that one in five farmworkers in California's Salinas Valley had been infected with COVID-19 between June and October of 2020. More than half of the farmworkers surveyed experienced symptoms or were diagnosed with the virus, yet reported to work for fear of losing pay, losing their job, or being told to go to work anyways by their employer. Additionally, a third of respondents reported that they were food insecure during the pandemic.
On the other side of the country, the economic fallout from COVID-19 worsened the hunger already present in farmworker communities.
Hunger Amplified by the Pandemic
Immokalee, Florida, is a farming town and, simultaneously, food insecure. When COVID-19 arrived, its economy slowed as people stopped going out to restaurants, which left fields unharvested and farmworkers without income.
Cultivate Abundance is a faith-based organization addressing food insecurity in low income, migrant farmworker communities in Immokalee. The local food pantry that Cultivate Abundance partners with, Misión Peniel, serves 300 to 500 clients each week. When that existing food insecurity was compounded by economic shutdown, the USDA Farmers to Families program attempted to alleviate hunger with food boxes filled with fresh produce, meat, dairy, and seafood products.
"Ironically, Immokalee kind of became a food dump area," says Rick Burnette, technical director of Cultivate Abundance. He notes that the food boxes provided by the program were large enough to occupy the trunk of a car. Unfortunately, most of the food pantry clients come on foot or bike. 
"We did an experiment one week with those just to see how it would go…and it went terribly," he says. 
Additionally, the boxes were full of foods that were not culturally appropriate for the Latin American and Haitian populations served. Dairy products, acorn squash, and much more was being tossed aside because the clients did not eat or know how to cook with these ingredients. To serve the needs of these populations, Misión Peniel and Cultivate Abundance worked with local partners to provide food donations and grow produce that was culturally appropriate. 
"Since 2018, we have grown, collected, and shared over 17 tons of local foods," says Burnette. "Assuming that everyone that comes through has at least two other people to feed—we want all of them to have adequate servings of fruits and vegetables for at least that day and beyond—we've been able to provide enough to help feed 400 people for two months, if that's how you want to look at it. That's a good start, but that's not enough."
While Cultivate Abundance works to address the immediate hunger of its farmworker community, the Farmworker Association of Florida is educating people across the state on underlying systemic issues. The association has community gardens spread out among the peninsula as part of its goal to educate and build food sovereignty for farmworkers and the region.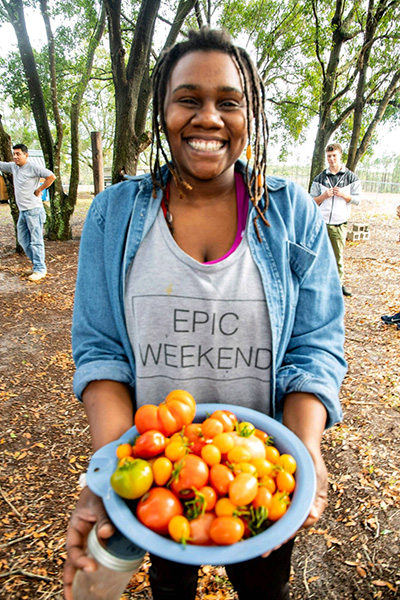 "We often hear the term food deserts, but we like to refer to them as areas of food injustice because some of these poor communities are not supplied with quality foods," says Nezahualcoyotl Xiuhtecutli, the association's general coordinator. "It's an irony that the same people who pick our fruits and vegetables often can't afford them."
Xiuhtecutli notes that the problem with food injustice is bigger than just empty plates at the dinner table. Scarcity and insecurity have much to do with who controls the agriculture supply chain—he states that when the colonizing powers first arrived in North America, Native American populations were devastated by disease and genocide, and eventually became dependent on access to goods from the colonizers. Today, small family farms have largely been replaced by four corporations that control more than 75 percent of the global grain trade. Instead of growing native crops and trading regionally to build resilient local food systems, these corporations—ADM, Bunge, Cargill, and Dreyfus—push commodity crops and ornamental plants to turn a profit. Most farmworkers work on farms operated by a major company or for a farm that sells their products to these companies.
"The whole system is designed around those with the greatest wealth, who really control who has access to better quality food and better health care, better education, and all those things," says Xiuhtecutli says. "The idea is not for [the community gardens] to be the catalyst as much as the seed that gets planted in their minds about what sovereignty is and how we can regain control over our lives."
While food banks and community gardens serve an immediate need, if the systemic problem is not addressed, food insecurity will persist.
Bringing Farmworkers Justice
Resolving the labor abuses and discrimination farmworkers face requires reform on a larger scale. Programs to relieve food insecurity exist because people are hungry; people are hungry because they face systemic barriers to healthy, nutrient-dense foods.
"The first step should be to enable people to make a living wage," says Goldstein. "That does involve labor rights and immigration status. And that's a large part of what we work on."
In 2020, Farmworker Justice and other allied organizations formally opposed the US Department of Labor (DOL) after the DOL changed the wage structure of the H-2A Guestworker program. The program allows employers to bring in foreign citizens on temporary work visas to work in US agriculture on a seasonal basis; these guest workers can only work for the employer that provides the visa and must return home at the end of the period. To protect US farmworkers, the DOL cannot approve more H-2A guestworker applications if the wage rates would drive down current wages and job opportunities for domestic workers. This ensures that guestworkers and US workers are paid the same minimum wage. Currently, that is about $14 per hour, but it has been increasing modestly in recent years. 
"The Department of Labor decided to freeze the wages for the next two years at the 2020 rates, which are based on rate surveys in 2019," says Goldstein. "So, the employers don't have to comply with the labor market."
The DOL admitted that H-2A guestworkers would suffer wage losses an average of $170 million annually over ten years, affecting over 200,000 guestworkers each year. US farmworkers would also suffer wage losses, but the DOL did not make estimates of that amount. 
In December 2020, Farmworker Justice and allied organizations won an injunction that prevented the changes from taking effect in the United Farm Workers v. Department of Labor case.
Assuring farmworkers the wages and worker rights they deserve, and ultimately alleviating food insecurity, will be a long process. But bringing justice to the people that keep the US food system running, even in the midst of a pandemic, is a worthy cause. You can demand better for farmworkers by taking part in one or all of the actions in the sidebar, including signing the Essential Workers Bill of Rights. 
What Can You Do?
Purchase fair trade foods. A fair trade certifying body demands accountability, meaning a higher likelihood for farmers and farmworkers to be paid better and thus experience better living conditions. 
Contact your Congressional representatives to voice your support for immigration reform that includes a path to immigration status and citizenship for undocumented agricultural workers and their family members. You may reach them through the Capitol Switchboard 202-224-3121.
Advocate for organic products and fight toxic pesticides. Farmworkers are exposed to higher rates of pesticides, which are harmful to human health and have been linked to cancer, Alzheimer's Disease, and birth defects, among others.
Demand better for farmworkers by joining us in signing the Essential Workers Bill of Rights, mandating a safer workplace for essential workers.
Dig deeper. Soul Fire Farm compiled a document with Northeast Farmers of Color with dozens of ideas for reflecting on and taking action for food sovereignty, "for anyone who has ever asked 'how can I help make the food system more just?'" 
From Green American Magazine Issue