The US has the highest incarceration rate in the world, which fuels economic inequality for Black and brown communities.
Families ripped apart. People stripped of second chances. And the inability to have a secure, financial future. All these are consequences of incarceration.
The prison system makes a profit off the lives of incarcerated peoples and their loved ones while deepening the wealth gap for Black and brown communities that are disproportionately more likely to be imprisoned.
Fees, fines, debts, and hiring discrimination follow formerly incarcerated people for their entire lives. Time in prison reduces someone's lifetime earning potential by nearly half a million dollars on average, according to a 2021 report from the Brennan Center.
But it doesn't have to be that way. The cultural and economic benefits of prison reform would benefit everyone in US society, from those on the inside to those who might not think they even have ties to the justice system.
Prisons Keep Poor People of Color Poor
The US locks up 2.3 million people annually, which costs taxpayers and families of justice-involved people $182 billion per year, according to the Prison Policy Initiative. That funding could go to public goods like education, public health, and growing vibrant communities.
The US has the highest incarceration rate in the world, with roughly half that population incarcerated for drug-related crimes. The War on Drugs, started in 1971, resulted in mandatory minimum sentencing laws that began to incarcerate people for longer than ever before.
People who live below the poverty line are more likely to be incarcerated: according to a 2018 report from the Brookings Institute, boys who grew up in the bottom 10% of incomes (in families that earn less than $14,000) are 20 times more likely to be in jail by their early 30s than boys from the top 10% (families earning more than $143k). When Black Americans make up nearly 20% of those below the poverty line, and Hispanic people make up 17%—while their white counterparts don't even break 9%—the racial wealth gap is deepened by a conviction.
The litany of fees criminal defendants must pay—from phone calls to probation fees—ensure that those without wealth stay that way. Bail is one such fee. In fact, most people in jail are not convicted, but are locked up awaiting trial, according to Prison Policy Initiative. A 2018 study by Princeton economists found that the average bail amount for Black defendants is more than $7,000 higher than white defendants. For people with a support system or money on the outside, the ability to post bail allows them to continue working, whereas those that cannot afford bail stay poor behind bars, and may stay for months to years before a trial.
Friends and families of incarcerated folks are forced to foot the bill for calls and commissary purchases, too. A 15-minute phone call can cost upwards of $5, depending on the state—an incarcerated person making 12 to 40 cents an hour on maintenance jobs would have to work over 40 hours to afford the call. Unpaid penal labor is legal under the 13th Amendment in the US Constitution.
Inside the prison, wealth disparity is visible on gendered lines, too.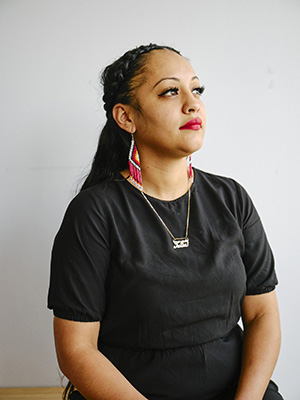 The Cost of Prisons on Women
Julia Arroyo is the managing director at Young Women's Freedom Center, a nonprofit in California that seeks to inspire young women and trans youth of all genders who have been disproportionately impacted by the prison system to create positive change in their lives and communities. She notes that even in prison there is a gender wealth gap.
"If we look at the way that some of the labor plays out inside, women were getting paid half the wage as male prisoners," Arroyo says. "Folks are working for maybe 15 cents an hour. And they can take your 15 cents. Maybe you've altered a blanket, and now you need to pay the jail back for the blanket because you turned it into a pillow."
For people that menstruate, necessary products are costly and often inadequate. In Missouri, the Department of Corrections offers free but nonabsorbent sanitary napkins. Incarcerated people make a base pay of $7.50-$8.50 a month, but absorbent menstrual products can cost them 70-80% of their monthly wage, according to MOST Policy Initiative.
Arroyo notes that outside, the caregivers for incarcerated men are often women, paying for phone calls and commissary allowances. But that doesn't always carry over for incarcerated women.
"If you look at a men's prison, lines are around the corner on visiting days," says Arroyo. "When you look at a woman's visiting room, it's a very empty place. Mass incarceration affects [women] both ways. Either we're caregiving for the loved ones that are incarcerated, or that we're incarcerated and we're less likely to ask our loved ones to support us because we know that we don't want to take resources from our children or our families."
Detention Centers: Jail for Asylum-Seekers
Immigration is technically a civil matter, not a criminal one, yet detention centers function much like prisons. Immigration and Customs Enforcement (ICE) detains hopeful immigrants, 69% of whom have no criminal record, according to 2022 data from Syracuse University. Yet for asylum seekers, seeking freedom from persecution in another country means being put behind bars in the US. ICE detains immigrants in approximately 200 jails, according to Detention Watch Network.
When Maribel Morales was 19, she fled the violence and poverty of Guatemala to seek refuge in the US. Morales crossed into Texas in 2014, claiming asylum, and spent nearly a month in detention in San Antonio before being transferred to the West County Detention Facility (WCDF) in California. US policy dictates that asylum seekers must be imprisoned and can seek bail if they are deemed to not be a threat to society.
After three months at WCDF, Morales' $7,500 bail was reduced to $2,500 in San Francisco court. She was reunited with her father in Opelika, Alabama, after he paid bail, but nearly eight years after her release, her legal status is still unclear. Morales' time in detention was short compared to others in situations like hers. Immigrants in detention centers for several months are often put to work for little to no pay.
Two years ago, her father returned to Guatemala and was no longer able to support her. Finding employment became vital for Morales, who was now pregnant.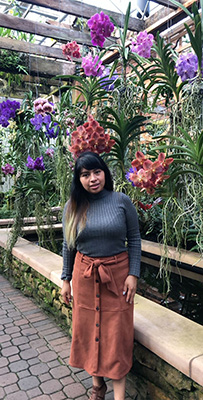 "I applied for a Tax ID number and got it. I couldn't work or get into school without an ID," she says. "If I had a social security number, I could at least get a better job."
Morales is currently working as a server in a restaurant earning $2.50/hr. plus tips, and going to school on her days off, but her impending court case has been postponed nearly three years due to the pandemic.
Unnecessary barriers to entry into the country and job growth make it harder for immigrants to contribute economically and culturally.
What Could Be
What could be possible if offenders were rehabilitated instead of incarcerated and innocent immigrants were not immediately put behind bars?
The reality is that many formerly incarcerated people have a great deal to contribute to the economy and to society, they just don't know how. According to data from the Legislative Analyst's Office of California, prisons spend more on maintenance of inmate records than on vocational training. And when, for example, California spends $106,000 on keeping a person in prison per year, with only $3,600 of that towards rehabilitation, it's not hard to see why things aren't changing.
In Norway, prisons are focused on rehabilitation and education. As a result, the nation has a 20% recidivism rate and former prisoners that once thought their only skill was selling drugs walk out with a diploma, vocational training, and the self-confidence that they are capable of more than their crimes.
Norway's goal of creating good neighbors out of prisoners has been adopted by state prisons in North Dakota. Charles Butcher, who was in the Missouri River Correctional Center in Bismark in 2019, says that the prison's transformation-based methods helped him learn conflict resolution skills.
"It took a lot of time for me to learn to just walk away. I picked it up here," Butcher told US News & World Report.
While it's too early to determine the amount of money formerly incarcerated people in North Dakota have contributed to society, a report from the ACLU noted that taxpayers would save over $125 million over the course of six years. That money could be invested in schools, social services, and other resources to strengthen communities.
Removing Incarceration from Immigration
For immigrants, coming to the states is about creating a better life—the same philosophy behind the American Dream that pilgrims were looking for when they first crossed the Atlantic. It's what Morales was looking for when she fled Guatemala and why she continues to go to school.
The DACA program, which stands for Deferred Action for Childhood Arrivals, ensures that the more than 825,000 people who immigrated to the US as undocumented young children can stay and work. More than three-quarters of that number are employed in essential jobs such as health care, education, and the food supply chain. Collectively, DACA households hold over $25 billion in spending power, strengthening their local economies. These contributions to the economy would not exist without DACA.
Transforming the System Starts at Home
Beyond money, what cultural contributions and thriving communities could we create if we focused on care instead of mass incarceration? This hope, called transformative justice, is what the Young Women's Freedom Center works towards—to help people that have been impacted by the justice system or the street market to become positive leaders in their communities. Arroyo says that changing this system begins at home.
"I think our kitchen table is a place where we can start to have deeper conversations about what it means to see our communities thrive and be successful," says Arroyo. "We all have to be brave and creative in thinking about ways to address poverty, oppression, racial and gender injustices."
Just like how incarceration affects entire families and communities, it will take collaboration and collective action with neighbors and relatives to create a better justice system.
"It's not just going to come from one of us," says Arroyo, "it's going to come from all of us." ✺
NC Hernández is a Chicano writer from southern California who now lives in Mexico City with his partner and two cats. He has worked as a behaviorist for children with autism, a touring musician, and an immigrant rights activist who led the first visitation program in California for federally imprisoned immigrants.
From Green American Magazine Issue