Photo by Darren Coleshill on Unsplash
From chestnuts roasting over open fires (spewing fine
particulate matter) and brightly wrapped presents (adorned
with paper from virgin rainforest trees), holiday practices
aren't always green.
1. HOLIDAY LIGHTS -- LED holiday lights use up to 80 percent less energy than incandescent lights, and they'll last longer, so they're worth the splurge.
Go one better with solar holiday lights, which use only the energy they soak up from the sun. They'll save you energy, save on your electric bill, and eliminate the need for extension cords. Gardener's Supply (gardeners.com)
and MrLight.com sell solar LED lights ($25 and up) that can help you get into the holiday spirit without depending on fossil fuels.
As for those old incandescent lights lurking in your attic or basement, recycle them at Home Depot stores (annually from early- to mid-November) or at HolidayLEDs.com.

2. DECORATIONS -- Rather than buying new decorations, scour thrift shops and garage sales, as well as places like Craigslist.com or Freecycle.org for used ornaments and holiday decor. You can also make your own decorations. One Green America member pastes her family's annual holiday photo to recycled card stock and hangs it from the tree every year. You can do the same with pretty images cut from last year's holiday cards, if you need to fill in a few gaps on your tree.
If you do buy new decorations, make them Fair Trade so you can ensure the workers who made them earned a living wage and didn't labor under sweatshop conditions. See the "Fair Trade" category at GreenPages.org to find businesses—like Ten Thousand Villages (tenthousandvillages.com) and SERRV International (serrv.org) that sell Fair Trade holiday decor.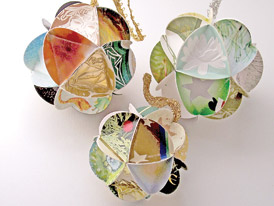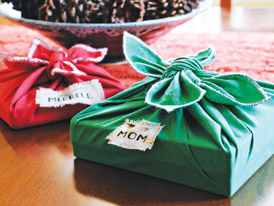 Homemade ornaments by artist Willow Polson: "I couldn't bear the thought of throwing away so many beautiful cards after just one use. By recycling them into colorful ornaments, people can enjoy them forever."Fabric "furoshiki" wrapping.
3. CARDS -- If you can, send e-cards to save resources and shipping impacts. Otherwise, send cards made from 100-percent post-consumer recycled content, such as those offered by AmberLotus.com, GoodPaper.com, and SyracuseCulturalWorkers.com. In addition, the Greenfield Paper Co. sells Grow-A-Note and Chia cards embedded with seeds that you can plant, as well as hemp cards and cards made from 100-percent junk mail.

4. GIFT WRAP -- Much of the holiday waste we generate comes from gift wrap and ribbons, which are often made from virgin-pulp paper and are generally used only once. Even worse, plastic ribbons and shiny foil giftwrap are rarely recyclable. Save resources by choosing sustainable wrappings when you do buy presents, from reusable tins to used boxes wrapped in newspaper comics. If you've got some pretty fabric scraps or old scarves around, try your hand at "furoshiki," the Japanese method of wrapping boxes with carefully folded cloths. Japan's Ministry of the Environment has how-to directions at env.go.jp/en/focus/attach/060403-5.html/.
Another option are reusable shopping bags—especially great for nudging friends and family who don't already take their own bags to the store. ChicoBag.com offers special holiday-themed shopping bags that collapse down to the size of two golf balls.

5. THE YULE LOG -- OK, so maybe this tradition isn't widely practiced anymore, but home fires in the fireplace are a common winter pleasure. Sadly, fireplaces produce air pollution, including fine particulate matter and carbon monoxide. Reduce emissions up to 80 percent from your fireplace with a Duraflame log or Java-Log, which are petroleum-free and made from compressed sawdust and plant-based waxes. If you want a fire in your fireplace, the Environmental Protection Agency (EPA) recommends burning these manufactured logs over wood because they substantially reduce air pollutants. Since much of the heat from your fireplace goes up the chimney rather than into your home, fireplaces aren't very efficient heaters, either. An EPAcertified fireplace insert, which is basically a wood stove that fits snugly in the fireplace cavity, will improve efficiency, though they can cost up to $3,000.
From Green American Magazine Issue