Courtesy of Self Help Credit Union
In Durham, North Carolina, chef Stephanie Terry is full of creative ideas. Without them, she never would have started Sweeties Southern & Vegan Catering, a business she owns with her husband Michael, who's also a chef. Together, they cook up treats like vegan mac and cheese and "chicken" nuggets—comfort food that's also healthier and better for the environment than their dairy- and meat-based inspirations. 
After growing slowly and steadily for four years, Terry needed new equipment and a cargo van to bring her tasty treats to more people.
A big bank might not be willing to work with her on a loan that made sense to her business model and her background. But a Community Development Financial Institution (CDFI) would help her out—and so they do with thousands of businesses and nonprofits every year, resulting in an untold number of green jobs created in areas that need it most.
"Regular bank" vs. CDFI
Giving loans to small vegan catering companies isn't necessarily in the business model of megabanks—companies like JP Morgan Chase that give huge loans to fossil fuel companies, aren't using their trillions in wealth to help out small businesses, even though they could. 
According to Rain Forest Action Network's 2019 "Banking on Climate" report, the top three banks funding new fossil fuel projects are Chase, Wells Fargo, and Citi. These megabanks have been financing fossil fuel projects to the tune of about $477 billion in the past three years (yes, just from those three).
Luckily, there's more than one type of financial institution that gives loans. CDFIs have a mission to bring financial services to low- and moderate- income communities that haven't typically had access to fair economic opportunities. That mission is one shared by all CDFIs, as defined by the Department of Treasury. 
While you might see commercial banks sponsoring green projects or touting their social investment programs, like Citi's blue bikeshare "Citi bikes" across New York City, money talks—and despite the bikes, Citi's investment dollars are saying "let's keep drilling for oil." 
In contrast, CDFIs are always looking at the goal and the mission of their lendees.
"When CDFIs set their sights on making loans that also include environmental concerns, they're already doing it with the lens that's so crucial, of making sure that the investment benefits a community that typically hasn't had access," explains Melissa Malkin-Weber, director of sustainability at Self-Help Credit Union . "When CDFIs start making loans in the green economy, we're bringing along the economic justice angle."
That's why Self-Help Credit Union worked with Terry from Sweeties Vegan and Southern Catering. Terry didn't just create her business to support her family, she started it to support her community, too. 
"Sweeties started because of catering for Racial Equity Institute workshops. That's when I first encountered Self-Help, because they were intentional about sending their key employees to the workshops," Terry says. "We developed a relationship through that, so when it was time for Sweeties to expand, we wanted to work with a bank that had a racial equity lens."
Part of Sweeties' goal to continue that justice and equity work is done by hiring people who may not be able to find jobs elsewhere because of disability or contact with the criminal justice system, and by paying everyone a living wage. 
Green Jobs in Clean Energy
The clean energy sector grows when more investments are made in green energy projects. CDFIs help with that too.
Malkin-Weber remembers Self-Help making a loan to Blue Ridge Biofuels years ago. The company collects and recycles cooking oil from restaurants in North Carolina, then creates and sells the biodiesel, and also "bioheat," an alternative to home heating oil. When the company was just starting out, Malkin-Weber remembers, they worked with Self-Help to get a loan that helped them buy a used truck.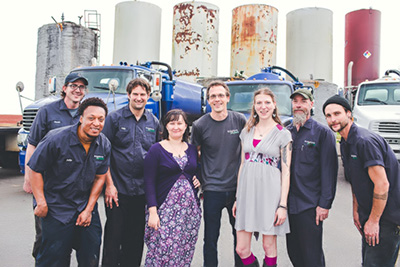 Years after, loans long paid off, they came back to apply for a loan that would buy a whole building. 
"We were their lender and we were able to grow their business from their first loan into a more mature state. That kind of relationship fuels economies," Malkin-Weber says. "When things get shaky, our lending teams work really hard because we know what's at stake in the communities where the borrowers work."
Blue Ridge Biofuels now has 12 full-time staff working for their company—and working for the green economy, creating and selling a sustainable fuel source in a state that is still only fueled by seven percent clean energy, according to Energy Information Administration reports from 2016. 
Contrast that with Wall Street Banks making billions in loans to fossil fuel projects—a practice that is dangerous for the climate and risky in a world where fossil fuels are in decline. CDFIs are investing in a better future in every way.
The Bigger Picture
These stories of green businesses thriving in North Carolina (the headquarters for Self-Help Credit Union) are just the tip of the iceberg. It's not just a few CDFIs making small loans in a few states.
Jeannine Jacokes is the CEO of Partners for the Common Good (PCG), a loan fund that's also a CDFI. While PCG mostly does real estate-related lending, she talks about how CDFIs use new market tax credits to fund community facilities, like charter schools, health centers, and nonprofits.
"The businesses we create [with CDFI loans] create construction jobs, but also permanent jobs," Jacokes says. "Permanent jobs would be the people employed by all of those organizations." 
Like Self-Help, PCG has a wealth of stories to show how loans can support businesses and create jobs in a community. For example, Jobs Café at Findlay Market is a social enterprise restaurant linked to a workforce development program in an area of Cincinnati with a 56 percent poverty rate and a 23.6 percent unemployment rate. PCG has also been an investor in Equal Exchange  a fair trade coffee collective that has paved the way for a mainstream fair trade movement in the US.
Jacokes has been in the CDFI world for many years, including serving over six years on the management team at the US Department of the Treasury's CDFI Fund. She says not only are CDFIs growing small businesses, they're growing their own industry. She says she sees more and more people coming from the traditional banking world because they are attracted to the work—they want to use their skills to make a positive impact. 
Assets in management by community development banks, credit unions, loan funds, and venture capital funds (all the types of institutions that make up CDFIs), have grown significantly in the last decade. In 2010, 850 institutions managed $41.7 billion in assets. In 2018, 1,145 institutions managed $185 billion in assets, according to US SIF's 2018 annual report.
It's hard to decipher how many of those dollars are going into specifically green projects, but keeping money in communities and out of fossil fuel-funding banks is green in itself. If you want to contribute to the growing movement and to your community, Malkin-Weber suggests finding a CDFI in your area and opening an account to hold your rainy day fund. 
"If you think about the amount of money you spend every month, you want to put your money where your values are, by buying fair trade or local," Malkin-Weber says. "Where your money spends the night isn't necessarily a tangible thing but it has a very big impact on the economy."
Get a better bank
Find a community development bank, credit union, or loan fund from our national database.
Then, tell your megabank why you're leaving. Read our 10 steps to break up with your bank.
Correction: This article originally said that the three megabanks were financing fossil fuels at $477 trillion a year. It has been corrected to billion.
From Green American Magazine Issue