Sergio Nuñez de Arco aspires to become the quinoa king, and he's well on his way. The company he started, one of New Resource Bank's first customers, rocketed from $635,000 in revenues in 2007 to more than $9.2 million and a 33 percent U.S. market share in 2010, says Nuñez de Arco.
Driven by a vision of promoting sustainable agriculture and raising farmer incomes his native Bolivia, Nuñez de Arco hopes to capture the majority of the U.S. market for quinoa by 2012 with a product that's 100 percent organic and 100 percent fair trade. A member of the Fair Trade Federation since December 2010, Andean Naturals' products are also certified by Fair Trade USA.
The relationship with New Resource is essential to the company's success, Nuñez de Arco says. Not only does the company draw on a line of credit, it needs frequent, complex wire transfers to go through flawlessly. What surprised him somewhat, he adds, is that the bank "did not take it easy on us just because we're trying to do good. They had a very solid way of analyzing the financials, cost structure and profitability, and telling us, 'If you want to get to this level, here's what you have to do.' I feel like they want our company to be successful."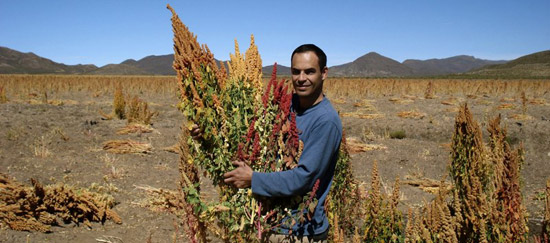 Nuñez de Arco helping with the quinoa harvest. (Profile & photo courtesy New Resource Bank)
Quinoa, a complete-protein, gluten-free "grain" (it's really a seed), has been cultivated in the Andes for thousands of years. Andean Naturals is making it more accessible in the United States by reducing risk for U.S. food purveyors. The company, which has offices in Foster City, California, and La Paz, Bolivia, buys directly from local farm cooperatives and processors, paying them an 8 percent premium for meeting its Royal Quinoa cultivation guidelines. It then sells the crop to leading US food companies. Most quinoa we find today on shelves can be traced back to Bolivia.
"We see ourselves as a bridge between the farm and the U.S. market," says Nuñez de Arco. "There are risks in importing directly—language barriers, shipments that are not well cleaned, late shipments. With us, customers don't have to worry about when the container will get there, and we stand by the quality. We're also transparent about prices, including how much the farmer gets. All this makes it easier for U.S. food companies to incorporate quinoa into their products."