The fashion industry's relationship with marginalized groups is complicated. For decades, people from communities often subjected to inequality and stigma have found fellowship in an industry where art, creativity, and individuality reign. The careers of designers and influencers like Jason Wu, Carolina Herrera, Andre Leon Talley, Vera Wang, and Willow Smith are just a few that exemplify what's possible in the modern fashion industry in terms of representation.
Unfortunately, major fashion brands too often create designs appropriated from Black, Brown, and Indigenous cultures, or worse, invoke painful history. For example, in 2012, the Navajo Nation unsuccessfully sued the apparel company Urban Outfitters for using the word "Navajo" on various products, including shirts and underwear that featured "tribal" prints. In 2018, an H&M ad showed a Black child wearing a sweatshirt bearing the words "Coolest Monkey in the Jungle," shocking consumers with how oblivious the company could be to the hurtful evocations of racist imagery. In 2019, Gucci debuted a now-infamous black sweater featuring a large collar with bright red lips worn over the chin and nose, which prompted shoppers to call out the design's blackface resemblance.
The issue is not only with racism in design but internal homogeneity and inequality. Only three percent of the members on the Council of Fashion Designers of America (CFDA) are Black, and when the organization released its 2019 Insider/Outsider report, only about 40 percent of fashion executives felt their company's commitment to inclusivity was important to the success of the company.
A truly green fashion movement addresses the harm caused by conventional clothing production, especially in respect to race. Thankfully, leaders in this work are willing to share what they've learned.
To Brooklyn and Beyond
Dominique Drakeford is the founder of Melanin And Sustainable Style (shortened to MelaninASS)—an online community dedicated to celebrating the successes of people of color in sustainable fashion and beauty movements. MelaninASS elevates the work of designers and craftspeople of color, whom Drakeford calls vanguards. Drakeford and collaborator Whitney McGuire are co-founders of Sustainable Brooklyn, which organizes educational events, workshops, and curricula to promote them to communities targeted by systemic racism via harmful education systems, public policy, and toxic marketing. For Drakeford, affirming the place of people of color in sustainability movements is just as important as speaking about oppressive systems.
"Black, Indigenous, and people of color [BIPOC] have been conditioned to not think of themselves as important figures and change agents in the sustainability space. That has to do with who is controlling the narrative," says Drakeford. "MelaninASS, Sustainable Brooklyn, and myself are always stressing the importance of reclaiming our environmental heritage and what that may look like in today's landscape."
Drakeford, who holds a master's in sustainable entrepreneurship and fashion from New York University, says her work is about putting the money generated from the fashion industry in the hands of the often Black and Brown communities that produce clothing and inspire their designs.
Drakeford has been pursuing this goal through the educational events hosted by Sustainable Brooklyn and her other speaking engagements.
"We have to look at the regions of the world where communities are struggling with apparel pollution and where fashion waste is exported, such as Africa and India," says Drakeford. "We tend to focus on garment workers in regions like Bangladesh, but this also effects farmers, dyers, and every aspect of production globally."
One action people can take to promote racial equity in sustainable fashion is to simply buy from clothesmakers of color. Like MelaninASS, the Instagram account @BuyfromBIPOC, founded by teacher and sustainable fashion influencer Emi Ito, focuses on highlighting the works of sustainable designers of color and is one such place where consumers can find people to support. Other action items include hiring people of color for executive creative positions at fashion companies, pursuing BIPOC ownership throughout a company's supply chain, rewriting trade agreements like NAFTA, which have shown to lead to unlivable wages and unsafe working conditions in developing countries, and advocating for fair media representation.
In 2019, Drakeford and McGuire hosted Sustainable Brooklyn's "EARTH" symposium which focused on fashion, food and wellness. The duo are planning to bring Sustainable Brooklyn's educational symposiums to more cities in the US and are set to debut two more, dubbed "FIRE" and "WATER" in 2020.
The Diversity Ethos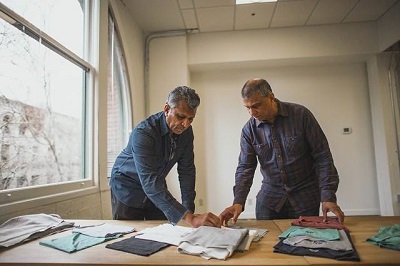 Brothers Raj and Akhil Shah know something about harnessing creative and economic power for good. Coming from an entrepreneurial family that sold textiles in the coastal city of Mombasa, Kenya, the Shahs immigrated to the US in the '70s, and started their first apparel company, Shah Safari, in Seattle.
Since then, Raj and Akhil have founded several other apparel companies affiliated with Shah Safari, including International News, AW Outfitters, Zebra Club, and Mecca USA, and have donated to over 33 charities including in India and Kenya where they still maintain some of their business operations. The brothers have also become well known for their knack for celebrating cultural trends in an authentic and non-appropriating way. Shah Safari, inspired by Indian culture, and bold, baggy, Mecca USA apparel targeted to the hip-hop community, are a couple of examples.
"You have to ask whether a brand intends to celebrate a certain culture or simply piggyback on a market trend and profit from that," says Raj Shah. "It pays to inspect the purity of the brand's intention and whether the brand supports nonprofits and other groups that seek
to empower and better the lives of those whose cultures they are emulating."
The brothers' newest venture, Ably, explores adding a coating called Filium (patent pending) to fabrics made from natural materials to repel liquids, stains, and odors, in an effort to reduce the number of times garments must be washed. The Filium coating is produced according to bluesign® standards.
The Shahs' marketing efforts for Ably set a positive example for other sustainable apparel companies. Shah says Ably targets its clothing design and messaging to Gen Z, 48 percent of whom identify as non-Caucasian, according to the Pew Research Center.
"A big part of our ethos is diversity and inclusion—from how and where we manufacture our clothing, to the personnel we employ throughout our operations, to how we treat our employees and vendors around the world," says Raj Shah.
Why Green Fashion Matters
Green America's 2019 Toxic Textiles report addresses the disproportionate burden carried by the communities that host clothing factories around the world.
When consumers use their money to support green fashion companies and designers, they're not only investing in environmental sustainability, but environmental justice as well. Supporting minority-owned businesses also helps to close historic racial wealth gaps and boost representation in the green economy.
Being intentional with our purchases can slow, and even end wastefulness, pollution, and inequality perpetuated by the apparel industry by pressuring companies to do better. Fashion has always followed the lead of the people and we have the power to make every thread we wear count for a greater purpose.
From Green American Magazine Issue