Green America's Green Business Network® launched a CBD (cannabidiol) certification standard focused on sustainability and social impact and released a new chart so that CBD consumers can compare the industry's various product certification labels and what they mean.
The new Green Business Network® CBD certification standard addresses a wide range of social and environmental issues facing the industry and will play an important role for consumers in affirming that businesses providing CBD products are operating in accordance with practices that support people and the planet.
The need for a new "truly green" CBD certification is illustrated by the consumer resource chart comparing CBD certification labels: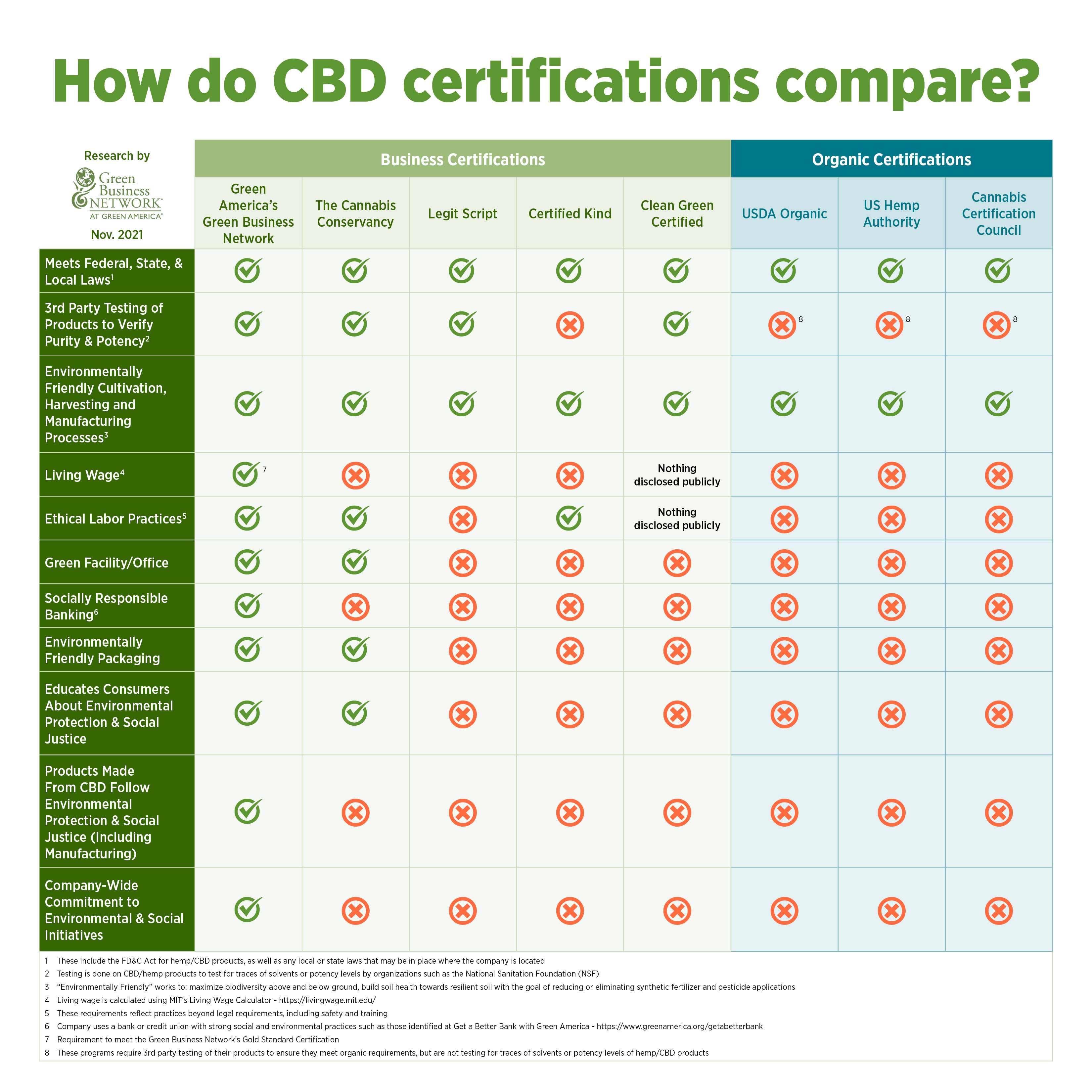 Megan Stansell, certification manager, Green Business Network®, said: "There are a lot of CBD certifications and labels out there, but Green America identified the need for this new certification standard after conducting extensive stakeholder engagement with multiple hemp and CBD industry professionals and organizations and finding that none of the other labels completely address sustainability and social impact. We researched best practices and identified appropriate requirements for small-midsized businesses within the industry and are pleased to launch this certification standard to provide CBD businesses and their customers the benchmarks and seal of approval for being a truly green, sustainable business."
Required criteria for this certification address social and environmental initiatives in ten different categories:
Company: All businesses in all certified industries must have a social and environmental mission and vision statement.
Legal Compliance: The FDA has made hemp a legal product in the U.S. per the FD&C Act. However, legal compliance will depend on local (local & state) laws and regulations. These businesses must prove their compliance at all levels.
Cultivation Practices: Businesses must prove they are supporting sustainable growing practices, such as building soil health, maximizing the use of recycled materials, and applying energy efficient technologies.
Materials Used: This category applies to the actual CBD products that are made (oils, salves, creams, etc.). Products must be free of phthalates, certain chemicals, and synthetic fragrances, among others. Businesses' use of solvents during the extraction process must be transparent and animal testing is prohibited.
Product Safety: This section ensures transparency around CBD products and is a common practice for CBD/THC products. Criteria include having traceback/recall protocols in place, using child-proof containers, testing products in third party laboratories, and storing the product in a safe environment.
Manufacturing: Whether done by the business directly or a manufacturer, these criteria will show transparency around the manufacturing process and ensure ethical and sustainable labor practices are in place.
Product Packaging: Packaging of products is important to consider and must be recyclable and compostable. Packaging should be minimal and use post-consumer content
Employment: Fair employment and labor practices are a key part of the green economy. Certified companies prove that they treat their employees better than average.
Education: Educating consumers and the community on sustainable practices is important to implement behavior change. Businesses must educate their consumers on proper disposal of their products, advocate for green practices in their industry (e.g., support for hemp/cannabis research), and establish a program from receiving input from both internal and external stakeholders.
Green Office: Businesses must implement sustainable practices in their office or facilities; these criteria also apply to home offices. Items addressed in this category include energy efficiency, recycling and composting, landscaping, and use of paper products, among others.
The Green Business Network® is a national network of small to mid-sized companies that work to integrate strong social and environmental commitments into their business operations. The Network is home to both rising social and eco enterprises and to well-established green businesses. The Network provides the tools, information, and – for certified members – access to consumers to help green businesses thrive in today's competitive green marketplace.
The Green Business Network® certifies businesses across 38 different industry sectors, including apparel, banks and credit unions, cleaning products, housewares, travel and more.