Above: Robin Rue Simmons at a press conference about equity in education in Evanston, Illinois. Photo by Heidi Randhava.
Over the past four years, the Trump administration has unraveled decades of progress in environmental protection: pulling out of the Paris Climate Agreement, weakening regulations on air pollution, and implementing rollbacks which favor fossil fuels and disproportionately harm communities of color. 
In response, Green Americans across the country are taking up environmental and social justice policies as a local matter—pursuing reparations for the descendants of enslaved Africans, working to pass local Green New Deals, and furthering their communities' commitment to an equitable future for all. 
Robin Rue Simmons is the alderman of Evanston, Illinois' 5th Ward. In 2019, Simmons led the effort to establish a fund for reparations for Evanston's Black residents. 
Simmons says the power of local government—and community organizations—can play a key role in creating change outside of federal government. 
"Local government is more nimble, we have more access to leadership and partners at a local level, we are more informed by our neighbors," she says. "As a local government leader, I live next door to those that I serve. And I serve along them while managing life and many of the barriers that we all share." 
Evanston: A First in Racial Justice
In November 2019, Evanston, a suburb of Chicago, became the first city in the United States to establish a fund, with public tax dollars, allocated entirely to reparations for African Americans. Simmons' proposal established a three percent sales tax on marijuana, which will then go to the reparation fund for Black residents. Marijuana was legalized in Illinois Jan. 1, 2020, and the funds became available on a municipal level in October. 
Evanston's first focus is affordable housing. Simmons says that once the housing policy is passed, it will provide Black residents who lived in Evanston between 1919 and 1969, and their direct descendants, up to $25,000 of direct assistance if they qualify for home purchase or need assistance sustaining their home purchase. The policy also applies to Black residents who can prove housing discrimination after 1969. 
From 2000 to 2017, the Black population in Evanston decreased from 22.5 percent to 16.9 percent, according to US Census data. 
"Black families are leaving Evanston at an unsettling rate because of [a] lack of access to affordable housing and having a sense of place and homeownership as a way to build wealth," Simmons says. 
Outside of reparations, Citizens' Greener Evanston, a local nonprofit, has had an operating Environmental Justice Committee for five and a half years. 
The committee, which recently put out an environmental justice resolution, has worked on a number of initiatives over the years, including advocating for the removal of a waste transfer station—a site where waste is temporarily held before transportation to a landfill—from a historic community of color. The committee even followed the fight to court, where it worked to ensure that the $1.2 million settlement was invested back into the neighborhood. 
The committee secured the funds for an air quality study, and in a court battle over the waste transfer station, the committee worked to ensure that the $1.2 million in settlement money the city received was reinvested in the neighborhood.
Ithaca: The Easy Part is Done
In June 2019, the City of Ithaca, New York, passed a Green New Deal resolution, setting ambitious goals for the city to be carbon neutral by 2030. The Town of Ithaca—a separate municipality surrounding the city—passed a similar resolution, and in early 2021, a green building policy will be considered for adoption by both the Town and City of Ithaca. The policy will require new buildings to produce 40 percent fewer emissions than mandated by state code.
By 2021, policy addressing how existing buildings must meet emission standards will be enacted, and by 2030, a net-zero emissions policy for new construction will follow. 
Local government is very important in climate protection, says Nick Goldsmith, sustainability coordinator for the town and city of Ithaca. 
"The federal government is really focused on tearing down environmental regulations and reversing climate progress, but local governments have the authority to pass local laws, and that's what we're trying to take advantage of with our energy codes," says Goldsmith. 
For many communities, including Ithaca, COVID-19 has thrown a wrench in the city plans to proceed with Green New Deal measures, a localized version of a congressional resolution to tackle climate change and inequity. The resolution, which was introduced in 2019, focuses on transitioning from fossil fuels while creating jobs in the renewable energy sector. With decreased funding, Goldsmith says progress on a local level has been slow.
However, as the world seems to be on hold, community organizers continue their work in ensuring that everyone has a seat at the table.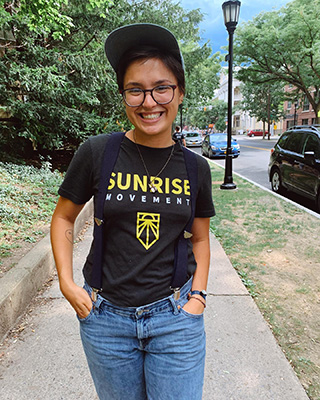 Marisa Lansing is the Climate Fund Coordinator for Sustainable Tompkins, a local nonprofit, and is a leader in Ithaca's chapter of the Sunrise Movement, a youth-led political movement which played a key role in pushing the agenda on Ithaca's Green New Deal. 
"In all of the big movements that we've had in our history, there's just been such a strong youth presence, and that's how we really get it done," Lansing says. "Youth have such strong power." 
Lansing is also a part of the Ithaca Green New Deal Advisory Board, a joint task force of city officials and community members which makes recommendations to the city, and participates in a Green New Deal community engagement group through Building Bridges, a community-based initiative which works toward a socially just economy. 
The community engagement group has been hiring members who hold marginalized identities to act as Community Educator Organizers, creating conversations about what their communities want to see in a local Green New Deal. 
Lansing says a just transition to a green economy is what she wants to see in Ithaca's official Green New Deal Action Plan. 
"Fossil fuels are just another way that we just continue to enact white supremacy and racism," Lansing says. "It's kind of like a control mechanism over people, because if groups of people aren't healthy, if they're fighting for survival, how can they? How can they organize and rise up?" 
What can you do to affect local policy?
Climate change and racial injustice can be overwhelming issues, but by starting where you are, you can help change your community for the better. 
Communicate with Leaders 
Show up to city council meetings—likely virtual now—and advocate for local Green New Deal plans and policies promoting racial justice. Many organizations, including Green America, also offer templates for reaching out to local government such as calling scripts, email templates, and sample social media posts. 
Join a Community Organization 
Many grassroots movements put pressure on local governments to implement progressive policies. Contributing your time and/or money to a community organization is a way to make a direct impact. 
Vote in Local Elections 
Our country has a history of low voter turnout in local elections, but local politics still matter. Electing leaders who prioritize the climate, and environmental justice, is a part of the battle to pass progressive policy.
From Green American Magazine Issue