Over the last decade, podcasts have skyrocketed in popularity—over 100 million people listened to a podcast every week in 2019. Compared to conventional radio stations that have limited airtime and contracts, podcasts offer in-depth storytelling on topics ranging from the daily news to comedy, and true crime to sci-fi stories. Here are a few picks from the Green America staff that cover a wide array of environmental topics.
Recommended by Beth Porter, Climate Campaigns Director
Beth Porter recommends Sustainability Defined, a podcast that explores all facets of sustainability, one topic—and one bad joke—at a time.
"I like this podcast because it explores climate solutions that also support communities, interviews experts, and encourages ways to take action," says Porter. "I liked the August episode on advocacy [episode 42]—with Grist and the Sunrise Movement—and the October episode on biomimicry in nature [episode 44] and how to apply those learnings to organizations. It's really interesting!"
Sustainability Defined brings together different experts for each episode to define sustainability under seven topics: energy, cities, natural environment, transportation, business, society, and policy. Co-hosts Jay Siegel and Scott Breen started the podcast out of their shared passions for the environment, good conversations, bad jokes, and communicating the big picture ideas of sustainability. Each episode is added to an organizational tree to categorize topics for listeners seeking specific themes, making it popular in school curricula. Sustainability Defined is available wherever you listen to podcasts.
Similar podcasts: Sustainababble, Living on Earth.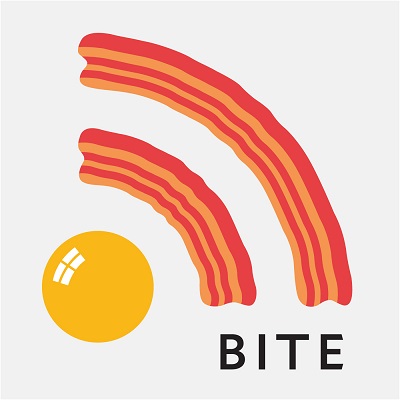 Recommended by Jes Walton, Food Campaigns Manager
Bite is a podcast for people who think hard about their food.
"Bite addresses food issues in a really current context and it shows the connectivity between issues," says Walton. "It talks about food from lots of different perspectives and it includes controversial topics."
Bite is co-hosted by Mother Jones editors Kiera Butler and Maddie Oatman, as well as acclaimed food journalist Tom Philpott. The informative show invites writers, farmers, scientists, and chefs to help the hosts dig into the politics and science of what we eat and why, revealing the stories behind the food on our plates. The show's 100th episode featured a Green America Soil Superhero, Leah Penniman from Soul Fire Farm, who spoke about young Black farmers in America fighting the legacy of racism in agriculture.
Walton's other favorite was episode 98, which addressed catering waste from tech company events and local entrepreneurs bringing this to those in need.
"Even as someone working in food, I hadn't thought about this issue or solution," says Walton.
Bite's recent series, "Eating in Climate Chaos," explores the role of food in a changing climate; from the newest technologies in lab-grown meat to the way each presidential candidate would influence our dinners. Listen to Bite with additional context on Mother Jones, or wherever you listen to podcasts.
Similar podcast: Eating Matters.
Recommended by Sytonia Reid, Associate Editor
Nicknamed "The Coolest Show on Climate Change," the Hip-Hop Caucus's Think 100% podcast explores topics like environmental justice, job creation, voter mobilization, and diversity in the climate movement.
Instead of arguing the facts on climate change, the podcast focuses on solutions. The co-hosts, Rev. Lennox Yearwood Jr. and Antonique Smith, interview community leaders, elected officials, and entertainers who are using their platform to advocate for climate solutions and share action items with listeners who are eager to get involved. Rev. Yearwood is the president and CEO of the Hip-Hop Caucus and a community activist. Smith is a Grammy-nominated singer, actress, and activist—together, their style brings a realness and relatability to the climate conversation.
The theme for season two is "Young People Will Win," focusing on youth climate heroes pushing climate change to the forefront of the political agenda. Think 100% is available wherever you listen to podcasts.
Similar podcasts: No Place Like Home, Mothers of Invention.
Recommended by Mary Meade, Green Business Network & Editorial Fellow
Drilled is one of the most alarming environmental podcasts of 2019: as the first investigative true crime-style podcast on climate change, Drilled examines and uncovers the "propaganda campaign of the century—the creation of climate denial." Season one traces the manufacturing and spread of climate denial, funded by corporations. Host Amy Westervelt is an award-winning climate journalist who pieces together primary source documents, uncovers the history of fossil fuel-funded influence campaigns, and interviews former Exxon scientists to get to the bottom of climate denial as we know it.
"I listen to podcasts mostly when I'm traveling," says Meade, "so I like to get into mysteries to help pass the time. Drilled took that and added climate change to unravel the truth behind climate denial history."
Drilled's second season—called "Hot Water"—looks at West Coast crab fisherman who are experiencing the devastating impacts of the climate crisis first-hand. This industry has become the first to sue big oil. Listen to Drilled on Apple Podcasts, Stitcher, Spotify, and TuneIn.
Similar podcasts: Warm Regards, Hot Take.
From Green American Magazine Issue