Buildings that simply mitigate environmental damage aim too low, says the International Living Future Institute (ILFI). People shouldn't have to settle for buildings that don't improve their lives and the environment around them. Now, they don't have to thanks to the ILFI's Living Building Challenge (LBC), which the nonprofit touts as the world's most rigorous sustainable building certification.
The Living Building Challenge goes beyond green-building certifications, like Leadership in Energy and Environmental Design (LEED) and Cradle-to-Cradle, by elevating the goal from environmental mitigation to regeneration.
Every act of design and construction on a living building should "make the world a better place," according to the ILFI.
The Living Building Challenge: A Building That Gives Back
As its name hints, successfully completing the Living Building Challenge is no easy feat.
To earn full certification, builders need to meet high green standards in seven focus areas, called "petals": eco-materials, health, a sense of place, water conservation, energy efficiency, equity/accessibility, and beauty.
Builder teams earn individual petal certifications as they complete each portion of the challenge. Once they achieve all seven petals, demonstrated through performance data over 12 consecutive months, the ILFI awards full living building certification.
The ILFI uses the metaphor of a flower because, notes the organization, a living building "should operate in the same clean, efficient, low-impact manner as a flower."
"Often when people talk about sustainability issues, they think mostly about natural resources, but the Living Building Challenge is also socially related and community related. It requires a broader way of thinking," says Kathleen Smith, vice president of the Living Building Challenge.
This broad way of thinking transforms into action when builders meet the LBC's seven petals:
Materials:
The LBC's Materials Petal ensures that living buildings are made from regenerative, nontoxic materials. Projects cannot use any of the toxic and hazardous chemicals on ILFI's Red List, which include asbestos, lead, phthalates, PVC, and more. ILFI's "Declare" database lists the hundreds of healthier construction materials and products acceptable for use in living buildings.
Living buildings also have to use a one-time carbon offset provider to offset construction-related emissions.
To meet the LBC's materials requirement, the project team for Washington University's Tyson's Living Learning Center , a fully certified Living Building in Eureka, MO, gathered woods from the Tyson Research Institute's 2,000-acre sustainably managed forest property. The Eastern Red Cedar and Hard Maple trees in that local forest supplied wood for the Tyson Living Learning Center's exterior sidings, trims, and floors.
Sourcing wood near the property site also fulfilled another living building mandate: that a certain amount of construction materials (as well as all hired consultants) come from the region.
The project team also replaced doors made with lead and sustainably harvested wood (which contained formaldehyde) with stainless steel, salvaged wood doors, and salvaged hardware.
Health:
Since Americans spend 90 percent of their time indoors, the buildings in which we work, learn, and live have a lasting impact on our overall health. Indoor air pollution from cleaning products and other sources can trigger respiratory problems like asthma as well as eye irritation, coughs, and headaches.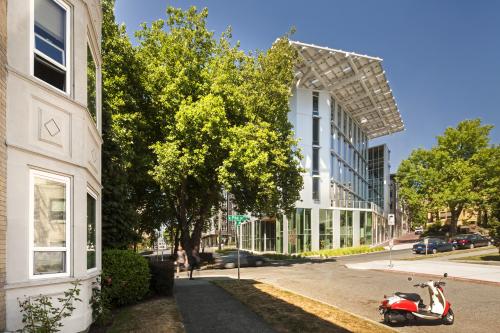 To the creators of the LBC, health and happiness go hand in hand. In addition to developing protocols for everyday operations like cleaning, and complying with high standards for indoor air quality such as the international ASHRAE Standard 62, design teams must also embrace the idea of biophilia, or the belief that human beings have a natural desire to interact with nature.
After receiving full LBC certification in April 2015, Seattle's Bullitt Center became the world's first certified living office building. The Center's project team used biophilic design as a fundamental principle guiding architecture, engineering, construction, and operation, says Denis Hayes, president and CEO of the Bullitt Foundation (and the founder of Earth Day).
"Our heavy timber structure wraps office spaces in warm, natural wood, and our large operating windows provide ample natural daylight as well as views of nature in the adjacent park," he says. "Our occupants have responded positively to these features and many others. We know people are more productive, as well as healthier and happier, when they are able to enjoy natural daylight and surrounding views, and the tenant companies have responded favorably."
Place:
To avoid disturbing their surrounding environment, living buildings do not occupy more space than they need. The LBC's Place Petal requires project teams to only select sites where there is already existing development and that aren't too close to sensitive habitats like wetlands, primary dunes, and virgin prairies.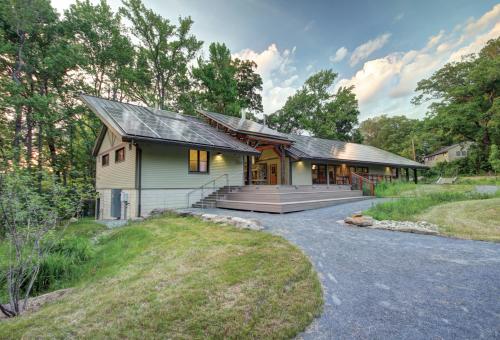 Living buildings promote agriculture and participate in ILFI's Habitat Exchange program, wherein project teams match land space used for construction with purchased off-site space set aside for future habitat preservation.
Last June, the Alice Ferguson Foundation's Morris and Gwendolyn Cafritz Foundation Environmental Center became the 13th building in the world to earn complete Living Building certification. Located on Hard Bargain Farm in Accokeek, MD, the foundation aims to connect students to the natural world, sustainable agricultural practices, and the cultural heritage of the Potomac River watershed.
"Our goal in investing in [the LBC] is so that we could truly walk the talk. It's [also] to share what we have learned every day with the students that we serve who get to see this building in action," says Alice Ferguson Foundation president and CEO Lori Arguelles.
She says she hopes the thousands of students who visit the center each year take what they learn from the building back home with them: "Even if your home isn't a green building like this, it doesn't mean that you can't apply the principles of low water usage, or be conscious of your electricity usage, or think about composting and waste reduction through recycling."
Water:
Changing the way people think about water waste is a major principle of the Water Petal. Living buildings capture, purify, and recycle all the water they need to operate on site.
The Cafritz Foundation Environmental Center, for instance, sits on top of a well. The Center pumps well water for drinking, showering, and washing hands, and it purifies graywater on-site. Waterless toilets and urinal composting systems also reduce water usage. A subsurface irrigation system collects and returns waste water to the ground.
Energy:
The LBC requires that buildings use on-site renewable energy systems that meet 105 percent of a living building's energy needs, meaning that buildings must provide their own energy for everyday operation and then some. Projects usually meet the LBC's "net-positive" energy imperative by using renewable systems, often solar, that can feed excess energy back into the grid. They must also have batteries to store energy in case of an outage.
Seattle's Bullitt Center uses a 244 kW rooftop solar array to generate electricity. When the array produces more energy than needed, the excess energy transfers to the public utility grid, where it's accessed by other energy users. The Bullitt Foundation, which owns the building, receives credit and is able to pull energy from the grid in the winter when there is less sunlight.
Equity: Many buildings are not constructed with people of various ages, abilities, and socioeconomic backgrounds in mind, but ILFI wants to change that. The LBC's Equity Petal requires project teams to follow ILFI design guidelines that are "human-scaled" not only in architectural design, but in equitable accessibility, too.
Living buildings include features for disabled individuals such as ramps, sizable elevators, and windows that open to provide fresh air and sunlight.
The LBC also aims to construct buildings that are economically and regionally inclusive. ILFI recognizes that in order to achieve equitable access to nature and green buildings, outdated zoning standards that prohibit green-building practices, and private ownership that excludes communities from natural destinations and natural resources like clean air, soil, water, and lands have to change.
Home to three living buildings—the Bullitt Center, the Bertschi School Living Science Building, and McGilvra Place Park—the City of Seattle has reaped the benefits of evolving policy such as its Living Building Pilot program, which provides incentives for projects pursuing the Challenge.
"Throughout the project, the City of Seattle was an important partner, starting with the development of the Living Building Pilot Program," says the Bullitt Foundation's Hayes. "Such a policy framework is a critical piece of the puzzle, especially when you consider the Bullitt Center bumped up against dozens of codes and regulations—both proscriptive and prescriptive—that would otherwise have prohibited development of our forward-facing project."
For many communities outside of Seattle, the need for pro-green building policy reform is pressing. According to a report by the peer-reviewed Environmental Health Perspectives journal, low-income and minority communities in the US currently live with the worst built-environment conditions, which exacerbates health disparities.
"If a Living Building is only for the wealthy, it's not serving the vision of making a living future. We want everyone to have access to a living building," says Smith. "There are even some health care organizations and hospitals that are realizing ... that the best preventative medicine and best way to reduce [health care] cost is to improve the quality of affordable housing."
Beauty:
The LBC's Beauty Petal isn't as much about looks as it is about effort. Living buildings do not have to subscribe to any particular aesthetic, but they should be designed to reflect the beauty found in nature.
For many living buildings, the idea of beauty transcends physical meaning. The Te Kura Whare building in Taneatua, New Zealand, the only certified living building existing outside of the US, features the vibrant works of Tuhoe artists. Finding inspiration from traditional Tuhoe symbols, proverbs, and the surrounding Te Urewera forest region, these artworks speak to both the proud history and promising future of the Tuhoe people.
A Living Future for All
There are currently 390 projects around the world that are pursuing Living Building certification, but only 15 fully certified living buildings exist today. (However, 70 more projects have been Petal or Zero Energy certified.) The time and cost it takes to achieve all seven petals make the construction of a Living Building a true challenge with many benefits for those who complete it.
The Alice Ferguson Foundation spent 11 years and $4.8 million completing the Morris & Gwendolyn Cafritz Foundation Environmental Center. The Alice Ferguson Foundation hopes to develop case studies and an institute for ecological studies to share the information it gathered during its journey to LBC certification.
Currently, ILFI is working with eight housing developers in Alaska, DC, California, Illinois, Texas, and Washington to make living buildings more affordable and accessible. ILFI's Affordable Housing Pilot Project borrows key principles from the Living Building Challenge to develop single-room, family, and mixed-use homes.
"Driving down the cost is in the policy advocacy we do," says Smith. "While something may cost more up front, the strategies you use to make a living building save money in the long run. If there are incentive programs or finances in place that cover the cost, that makes [the construction process] better."
Though persuading companies and local governments to invest in regenerative building designs might be an uphill climb, challenges seem to be ILFI's thing.
From Green American Magazine Issue