NineBar for Green America
Marie Kondo's show "Tidying Up" inspired people across the country to identify what brings them joy and help them tidy up. If you're not a Netflix user, her book The Life-Changing Magic of Tidying Up (Ten Speed Press, 2014) is a guide to the same. The show made me think hard about consumption habits, but also it came out right when the team started working on this issue.
You can pick things up and see if they spark joy, but unfortunately, you can't pick most things up and discover if they contain toxic pollutants—chemicals are largely unlabeled in home goods and construction materials we're surrounded by day in and day out.
This home detox guide aims to identify the high-impact items in your home—the ones that would make the biggest impact if they were greened (or sometimes even just cleaned). To read the health problems associated with these chemicals of concern (at the top of each item), see "13 Toxic Chemicals Lurking in Your Home." There's an article about swaps you can make to swap toxic chemicals with green options. Of course, we couldn't fit all great green products on that page, so check out GreenPages.org to find green products and services from certified Green Business Network® members.
Take yourself on a tour of your home, and you might be surprised by what toxic chemicals you'll find polluting it. Here's what you can do to clean those out, for good.
Your Room-By-Room Home Detox
Living Room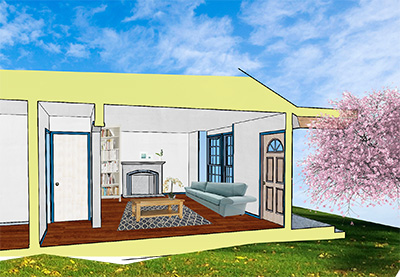 Furniture
Chemicals Concerns: VOCs, formaldehyde, PBDEs
Whether furniture is made from wood, particle board, or upholstered foam, it may be releasing VOCs, formaldehyde, and/or PBDEs into the air from materials themselves and glues that bind them. Furniture without flame retardants isn't usually labeled as such, so call the manufacturers to find out what chemicals your furniture was treated with.
Better Options: Natural fibers like cotton, wool, wood (that is unfinished or finished in an eco-friendly way) are the best bets for safe furniture. Seal edges of particle board and pressed wood with a zero-VOC sealant. Consider buying second-hand furniture or use a green refurbisher to add new life to an old piece.
Labels to Look for: Certified Indoor Air Quality by SCE Global Services. Forest Stewardship Council (FSC) certifies sustainably sourced wood but doesn't address chemicals added during manufacturing.
Hard Flooring
Chemicals concerns: Hard floors beat carpets for air quality because they don't hold onto as much dust. But, stains and finishes (like lacquer, shellac, varnish, and sealers) used on hard floors have the same issues as paint, so use the same caution you would with paint, and buy stains and finishes labeled as low-VOC or zero-VOC. Make sure you or your contractor keeps your home well-ventilated when applying coatings and as they dry.
Better Options: Look for floors made from refurbished wood. Other options are bamboo (more durable and faster-renewing than wood), cork (hypo-allergenic, fire-resistant, and faster-renewing than wood) natural linoleum (hypoallergenic and biodegradable) floors.
For safer finishes, look to oils from renewable sources, like linseed or tung oils, though check first with the manufacturer about additives. A low-VOC shellac can also be a good bet because shellacs are heartier and will need to be applied less often than other finishes. (See more about natural floor coatings.)
Labels to Look for: Green Seal-11, Greenguard Gold. Forest Stewardship Council (FSC) certifies sustainably sourced wood but doesn't address chemicals added during manufacturing.
Carpet/Rugs
Chemicals concerns: formaldehyde, VOCs, benzyl benzoate, phthalates, PBDEs
Conventional carpets are often treated with chemicals for stain-, fire- and moth-resistance, and they may be made with petroleum-based fibers like polyester. From the carpet itself to glue and padding, installation of new carpet and flooring can fill the air with hundreds of VOCs, which can take years to dissipate. Carpeting is notorious for trapping toxic lawn chemicals, VOCs, and allergens tracked in from outside.
Better Options: Carpets made from wool are naturally flame-retardant and may not be treated with as many chemicals as a petroleum-based polyester carpet (call the manufacturer to find out). Carpet tiles allow you to replace just the worn parts as a carpet ages, which reduces how often you need to bring heavy-emitting new carpet into your home. Have carpet nailed down instead of glued, because glue also contains toxic chemicals. Avoid carpets marked as stain- or water-resistant because those finishes contain toxic chemicals.
If you're ready to live without carpeting, see the hard flooring section. You can still use area rugs made from natural materials (wool, jute, sisal).
Labels to Look for: Greenguard Gold, Green Label Plus (certifies low emissions for indoor materials). Goodweave (for rugs, not carpets) certifies that no child labor is used in your rug, but does not certify rug materials.
Kitchen
Plastics
Chemicals Concerns: phthalates, BPA/BPS, DEHP, petroleum-based products
So many foods are sold in reusable plastic packaging, (yogurt, cold cuts, peanut butter), so green-minded and frugal folks may save plastics for food storage. The problem with plastics (whether reused or bought specifically for dishes and storage) is that chemicals in plastics are known endocrine disruptors. Never use plastic (even if it's labeled heat-safe or BPA-free) for microwaving items, as heat can release the chemicals from plastic into food. Avoid putting hot food into plastic containers for storage. Plastic wrap is petroleum-based, includes phthalates, gets thrown away almost immediately, and is not recyclable, so avoid that wherever possible.
Better Options: Use heat-resistant glass or ceramic storage containers and dishes for storage and heating food. Use a plate turned upside down over a bowl instead of plastic wrap, or consider a natural alternative like beeswax wrap.
Labels to Look for: Look at the recycling number on the bottom of plastics—the highest-quality (and least likely to leach the worst chemicals) are plastics are 2, 4, and 5. Glass is still better whenever you can use it. Stainless steel works for storing food, too.
Cookware
Chemicals Concerns: PFCs, PFOA
The health problems associated with nonstick cookware make it not worth the time you might save scrubbing. The nonstick coating Teflon has been associated with "Teflon flu," an ailment that comes from breathing the fumes of an overheated nonstick pan (and the same chemicals you breathe go into your food). Teflon was made with a chemical called PFOA until that chemical was found to be dangerous (in 2013), and it was replaced with PFCs, which have not been proven to be safer.
Better Options: Look for cast iron, stainless steel, carbon steel, heat-safe glass, and ceramic-coated cookware. Crock pots and instant pressure cookers are also safe as they're typically ceramic or stainless steel. Anondized aluminum is sometimes considered a safe alternative to nonstick Teflon pans, but its treatment may scratch off over time, making it a lesser option than the others above. Follow safety instructions for heat-safe glass especially, which can have bad reactions to quick temperature changes.
Labels to Look for: There aren't labels specifically for nontoxic cookware, so follow the "better options" advice above.
Bathroom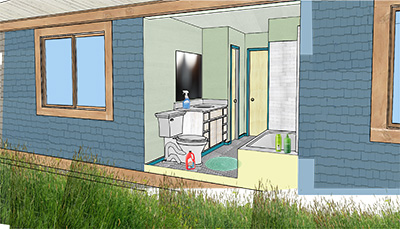 Body Care Products
Chemicals Concerns: parabens, phthalates, lead, VOCs
Under FDA legislation, body care products are all lumped under the term "cosmetics," which covers everything from perfume and makeup to toothpaste, soaps, shampoos, lotions, and lots of other products. Unfortunately, the FDA does not require safety testing of ingredients in "cosmetics." According to the Environmental Working Group (EWG), women are exposed to 168 chemicals every day through the use of cosmetics, and men to 85. Some of the most common and highest-impact chemicals include parabens, phthalates, and lead.
Better Options: Look up your favorite products on EWG's Skin Deep Cosmetics database, which ranks the safety of cosmetics on a scale of 1-10 based on ingredients' association with cancer, hormone disruption, and allergies. You can find cosmetics made by Certified Green Businesses at GreenPages.org.
Labels to Look for: EWG-verified, USDA organic. The Leaping Bunny seal certifies no animal testing is done on animals.
Bathroom Cleaners
Chemicals Concerns: VOCs, formaldehyde, hormone disruptors
Conventional household cleaners contain VOCs, formaldehyde and harsh acids. The word "fragrance," can indicate some of dozens of ingredients, including hormone disruptors and VOCs. Beware of greenwashing from companies that make cleaners: A study from the University of Melbourne found that 80 percent of VOCs used for fragrance were present in conventional products and those labeled green or natural.
EWG's Guide to Healthy Cleaning database gives cleaning products letter grades based on ingredients' association with asthma, allergies, reproductive toxicity, cancer, and environmental toxicity.
Better Options: Find cleaners made by truly green companies with safe ingredients at
GreenPages.org. You can also make most of the cleaning products you need with natural ingredients on p. 23.
Labels to Look for: USDA organic, EWG-verified, Natural Products Association, certified member of the Green Business Network®.
Bedroom
Mattress
Chemicals Concerns: PBDEs, VOCs, formaldehyde
Adults spend about a third of their lives in bed, and babies may spend more than half their time in bed— while their bodies are vulnerable and growing rapidly. Finding safe mattresses for the whole family is important, even if they will be used for fewer years in a crib. Between foam, coatings, and covers, mattresses are too-often filling your bedroom and your body with toxic chemicals. Conventional mattresses and mattress pads off-gas formaldehyde and other VOCs that can cause respiratory irritation and other health problems. Many manufacturers also treat foam with cancer-causing flame-retardant chemicals.
Better Options: Get a mattress made of cotton, wool, or natural latex and one of the organic labels below. Polyurethane and foam mattresses are often cheaper, so if you're buying those, look for a certification for low-VOC emissions. Ask the manufacturer if a mattress is treated with fire-resistant chemicals and if it has a vinyl cover (vinyl is made from phthalates and other chemical additives that have been lined to cancer, birth defects, and chronic diseases). A mattress cover made of polyurethane laminate (PUL), fabric, or polyethylene is safer.
Labels to Look for: Global organic textile standard (GOTS), Oeko-Tex standard 100, Greenguard GOLD, Global Organic Latex Standard (GOLS). Organic labels (USDA Organic and Organic Content Standard 100) certify the percentage of organic materials but don't address added chemicals like VOCs and flame retardants.
Bedding
Chemicals Concerns: Formaldehyde, PFCs
Chemicals that resist flame, water, moths, stain, and wrinkles are often added to textiles like sheets and blankets. Avoid labels that correspond to those qualities: permanent press, no-iron, water-repellant, and flame retardant. Firefighters and scientists agree that flame retardants do not significantly prevent fires and can make smoke more toxic.
Better Options: Buying organic may reduce chemicals inputs, because organic cotton is grown without pesticides, but it doesn't address what fabrics were treated with during manufacturing. Labels will typically tell you the materials but not added coatings, so the best bet is to call the manufacturer.
Labels to Look for: USDA Organic, but no labels exist to certify safe bedclothes specifically.
Paint
Chemicals Concerns: VOCs, formaldehyde
Both water- and oil-based paints use VOCs as solvents. Other chemicals added to paint extend shelf life and prevent mildew. Make sure you or your contractor keeps your home well-ventilated when painting and as it dries.
Better Options: Use super-low or zero-VOC paints and stains—they're common and becoming cheaper. If you don't see a label, ask the person mixing your paints. Consider milk paints as an alternative to water-based latex or oil paints.
If your home was built before 1978, test for lead paint. If you find it, have your kids' blood tested for lead and find a professional to cover or remove lead paint. Ask contractors if they're EPA-certified in Renovation, Repair, and Painting (RRP).
Labels to Look for: Green Seal-11, which limits VOCs, lead, mercury and carcinogens. Low-VOC and No- VOC are trustworthy manufacturers' labels.
From Green American Magazine Issue