Seattle Housing Authority
Residents and community health workers of Seattle's Yesler Terrace development. Community health workers are trained in "Breathe Easy" air quality practices by the American Lung Association.
A new movement is creating affordable housing options with clean air, energy efficiency, and climate resilience in mind. 
Whether you're a young adult apartment-hunting for the first time or an experienced home owner, most Americans can anticipate the challenges of finding an affordable place to live. In 2017, a third of Americans lived in housing that was not affordable to them—meaning their housing cost more than a third of their income.   
In addition to the financial strain from increasing housing costs, our built environment has a direct impact on our health, yet research shows that low-income communities are disproportionately exposed to health hazards in the home.  
The green affordable housing movement emerged from a desire to simultaneously address economic disparities, environmental sustainability, and human health. Leaders in the movement are pioneering the development of housing that is affordable, safe, and conducive to a climate-friendly future, and it has already shown positive ripple effects in society.  
In March 2018, Congress passed an omnibus spending bill that increases Low Income Housing Tax Credit (LIHTC) allocations by 12.5 percent each year for four years (2018-2021). While this increase certainly helps grow affordable housing, it falls short of the large-scale investments we need at the local, state and federal level to meet our nation's needs.
About 4.8 million American households receive some form of subsidized housing assistance from the Department of Housing and Urban Development's (HUD) and cost-burdened households who do not participate in HUD programs are likely to seek affordable housing targeted to their income. The advent of green affordable housing in the past 30 years shows that policymakers, housing developers, and community leaders are in empowering positions to change the environmental health conditions for millions of Americans.
The Affordable Housing Crisis  
Big cities like New York and San Francisco no longer dominate conversations around affordable housing, because the number of cost-burdened Americans has doubled since the 1960s, according to a 2018 Harvard University report, and the impact is felt across American cities from Birmingham to Toledo.
HUD defines "lower income" as 80 percent of the median income of the area where one lives, and "very low income" as 50 percent of the median. From 1987 to 2015, the demand for affordable homes swelled as the population of very low-income renters in the US grew by 6 million.  
But as demand rose, the US homeownership rate among young Americans aged 25 to 34 declined from nearly 50 percent in 2005 to 35 percent in 2015, according to US Census data. Today in big cities like Austin, Las Vegas, New York, and San Francisco, homeownership rates have settled around 50 percent. As consequence, the number of people renting in the US is higher than at any other point in the last 50 years.
Economic and social policy think tank the Urban Institute attributes these trends to stagnated livable wages, limited access to credit, student loan debt, the Great Recession and changing attitudes about homeownership. 
Across America, swift renovation of urban neighborhoods has led to increased costs of living in those neighborhoods, known as gentrification. Gentrification is accompanied by an influx of higher-income people, as they move into trendy developments and shop at new businesses. But for residents who've lived in an area beforehand, often well-established communities of color, gentrification means displacement as property values rise to the point of unaffordability.
In 2018, Miami became the first city to study "climate gentrification" or the movement of higher income people living in coastal neighborhoods to more secure, inland areas. Miami Mayor Francis Suarez signed a resolution to study the effect of climate change on housing prices, with the goal to inform the city on measures that will allow residents to stay in their communities in spite of the rising sea levels crowding inland neighborhoods.
In 2017, the Prevention Institute published a report that defined "green gentrification" as processes in which enhancements like parks and bike trails can attract luxury developers to a neighborhood and unintentionally lead to gentrification. Though the report reveals how complex the issue of gentrification can be, it asserts that preventing gentrification is possible by making equity a core principle of green affordable home developments.
Nationally, rent prices have increased by 2.8 percent from 2016 to 2018 and today's median rent is $1,445, according to the real estate database company Zillow. When considering these factors and the slow pace of new affordable homes being built, which is at a new low, it's easy to understand why advocates call our current predicament a crisis. 
Last year, HUD Secretary Ben Carson introduced the Make Affordable Housing Work Act, which would require those who receive housing subsidies to pay 35 percent of their income on rent and triple the minimum monthly rent for families with the lowest income from $50 to $150. Carson said that increased rents will motivate residents to find higher paying jobs and therefore, curb dependency on government assistance. While Carson's proposal has not yet been approved by Congress, it has illuminated the vulnerable state of lower income residents' housing.
In response to Carson's proposal, Diane Yentel of the National Low Income Housing Coalition told the New York Times that the demand for affordable housing wasn't about dependence and that "today's housing crisis is squarely rooted in the widening gap between incomes and housing costs." 
For our nation's lowest income populations, lack of affordable housing could have serious consequences, and force people to choose between bills, which can lead to eviction, job loss, and homelessness.  
Financial institutions also play a role in the housing market. Over the last decade, there have been numerous Department of Justice (DOJ) cases concerning mortgage lenders and banks that have put a disproportionate financial strain on people of color. 
In 2012, Wells Fargo agreed to a $175 million settlement following a DOJ investigation that found 34,000 incidents in which the megabank had charged African Americans and Latin Americans higher mortgage rates and fees compared to white customers with similar credit backgrounds. As homeownership continues to be a foundational building block for household and generational wealth, such practices contribute to economic divides between Americans.  
Key Features of Green Affordable Housing
Solar panels, which create on-site energy generation, so residents only pay a small percentage of their energy needs to a utility company.  
Energy-efficient appliances like refrigerators, washer/dryers, and dishwashers use less energy and reduce bills.
EPA-certified Energy Star appliances are commonly used in affordable housing
LED lights use less energy and last longer than traditional incandescent or even fluorescent bulbs.  
Low-flow fixtures attached to showerheads, toilets and faucets save water and reduce the cost of water bills
Low-emissivity windows (usually called Low-E windows) have a special coating which reflects interior temperatures back inside, keeping homes warmer in the winter and cooler in the summer.
Insulated walls keep heated or cooled air in, and outside air out, meaning residents can save on heating and cooling bills. 
The Green Affordable Housing Movement  
Walker Wells, a leader in the field of sustainable building and neighborhood development, traces the green affordable housing movement's roots to the United Nations' 1992 Earth Summit held in Rio de Janeiro. There, inspired by the concept of sustainability and its relationship to economy, equity, and the environment, organizations like Global Green began forming. Today, Global Green leads research and community-based projects, including those in affordable housing that aim to address society's need for affordability and the environment's demand for sustainability simultaneously. Wells joined Global Green in 1999.
"One of the things that we acknowledged early in our work was that we were experiencing urbanization," Wells says. "People were increasingly moving to cities, and instead of demonizing city governments and businesses, we should help them improve their practices."
Global Green takes part in the green affordable housing movement by advising housing developers, project managers, and government agencies and providing resources for energy-efficient appliances, energy monitoring, green building materials, and design that maximizes access to natural resources like daylight and fresh air. Energy efficiency is a common priority for green affordable housing, because reduced energy use cuts the cost of electricity, heating and water bills. 
In 2007, Global Green and the nonprofit Community Housing Works debuted Solara, a 56-unit multifamily affordable apartment complex in Poway, California. 
Solara was one of the first affordable home developments to not only incorporate these features, but also produce a high percentage of on-site solar energy generation. Two years after its debut, Global Green researchers found that the development had produced 87 percent of its total electricity needs on-site with solar panels. Solara also helped Global Green cement the financial strategy of bundling tax credits (including LIHTC), utility incentives and rebates to fund similar projects, which was replicated at the Los Vecinos development in Chula Vista, California.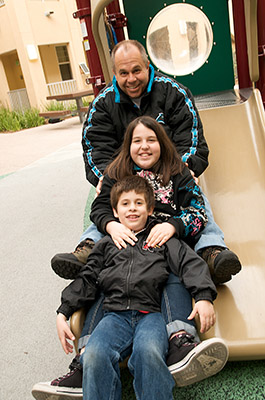 Caption: Residents at Los Vecinos housing development in Chula Vista, CA. Credit: City of Chula Vista. 
In the aftermath of Hurricane Katrina, Global Green launched its Holy Cross Project in New Orleans' Ninth Ward, one of the communities hit hardest by the storm. The project created the Community and Climate Action Center, which serves as an emergency shelter and educational space for climate-resilient practices like water management by showing residents how to use rain barrels and plant rain gardens. The project has also built four LEED-certified homes that have saved residents $1,200-$2,400 a year in utility bills since 2012. The next wave of the Holy Cross Project will be the construction of affordable mixed income rental units built with solar panels, energy monitoring systems, and energy-efficient appliances. 
Breathing Easier in Affordable Homes   
Green affordable housing has the potential to restore environmental health and justice in communities and improve the overall quality of life in the home. For those living in low-income housing developments, the risk of exposure to environmental health hazards is three-fold when considering the site the housing itself is built on, the building materials used, and the actions property managers take to protect residents. Considering property management is especially relevant to residents who receive HUD housing vouchers and live in privately-owned housing in which renting to a negligent HUD-contracted landlord could mean prolonged exposure to health hazards like black mold, vermin, and leaks.
In 2017, the EPA and HUD confirmed that about 70 percent of Superfund sites—contaminated areas considered to be a hazard to human health—are near low income housing developments. While both agencies have committed to collecting more research on this issue and the EPA has begun cleanups on some lead-contaminated sites across the country, further steps remain to be seen.
The National Center for Healthy Housing estimates 5.7 million Americans live in "substandard housing conditions," or those that cause significant illness, injury or death. In 2018, the World Health Organization (WHO) identified substandard housing as a contributor to various health conditions and provided home environmental guidelines for water and air quality, asbestos, lead and indoor gas emissions.
"People with lower incomes and people of color tend to live in areas that have a greater burden of outdoor air pollution," says Robin Dodson, an environmental exposure scientist with the Silent Spring Institute. "But I think when we discuss total exposures, we need to include indoor air pollution and chemicals like hormone disruptors and carcinogens which can build up in the home and are equally important."  
In 2017, Dodson and a research team conducted a study on subsidized housing in Boston that had been renovated to meet certain green standards, mostly for energy efficiency. Collecting samples pre- and post-occupancy, the research team was able to narrow down pollutants that came from the building itself and those that came from tenants' personal items. In the end, TDCIPP (a  cancerous flame retardant), benzophenone (a hormone disruptor), and dibutyl phthalate (a type of phthalate) were all detected from the building, which Dodson says demonstrates the need to broaden green building standards so that they go beyond ruling out VOCs and also eliminate other hazardous chemicals.  
Though there are regular HUD inspections for interior air quality and HUD-sponsored developments aiming to meet green building standards, the intention to promote healthy air quality could be stronger and ultimately varies across communities. It's also important to note that while energy efficiency can't account for all health risks, there is a relationship between energy efficiency and health. 
"For example, most of our projects have a bathroom fan that's on at a low speed all the time, and it's not using a lot of energy because it's very small. The benefit is that it pulls humid air in the bathroom which can cause mold," says Wells. "And we also need the fan on because we've sealed up the building in other places to save energy. So there's a trade-off between the energy spent and the air quality benefit." 
Seattle's "Breathe Easy Homes" are an example of a strong move toward green air quality standards. Built in 2007, the Seattle Housing Authority, King County, and University of Washington developed affordable homes created around techniques to improve air quality including fresh air ventilation systems, fans, airtight wall construction and insulated windows. After construction, the number of residents who made an asthma-related visit to the clinic decreased from 62 percent to 21 percent in a period of three months.  
For Wells, this is the kind of evidence-based impact that shows green affordable housing can make a difference, by giving residents some breathing room financially and in their personal health. 
"People may not be conscious of all these green features, which is probably good because if it's done well it should just be part of the building, but what they get is the degree of care put into the project," says Wells. "And what we get from an emotional level is that the residents feel like they're valued, like we spent a lot of time making a high-quality place for them to live because they're a person of value."
From Green American Magazine Issue